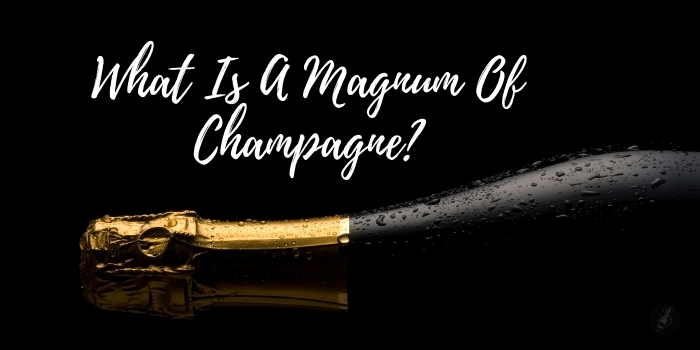 When planning a party, you might be wondering how to save time and money on drinks. Rather than splurging on endless bottles of Champagne, you could opt for a Champagne Magnum. But what is a Magnum of Champagne?
A Magnum of Champagne is a large 1.5 litre bottle that equivalates to two standard sized 75cl Champagne bottles. This is ideal when having parties or gatherings. It is also said that Champagne tastes better from a Magnum due to the larger volume and longer maturity. So why not grab yourself one?
We've got five Champagne Magnums, perfect in taste and size. From Moet & Chandon to Pol Roger, you can simply take your pick. All come in our classic wooden gift boxes and can be delivered anywhere in the UK.
---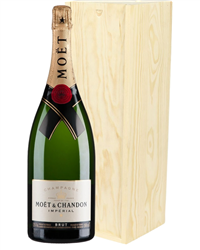 Moet & Chandon Champagne Magnum
A gift box that provides the recipient with a bit more champagne to enjoy than a traditionally sized bottle; this especially voluminous Moet & Chandon Champagne Magnum Gift Box offers an especially large volume of 150cl to enjoy and a stylish appearance that offers a sturdy method of delivery as well. The perfect present for anyone with a little extra personalisation added this lovely gift box can come with a personalised message along with it if desired. Great as an engagement, wedding, retirement or even a thank you or simple congratulations for any important event that comes up in their lives.
---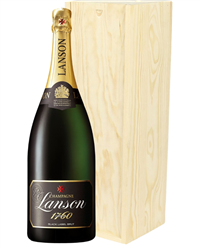 Lanson Champagne Magnum
Offering an impressively large volume within a simply chic gift box, this set includes a magnum size bottle of Lanson Black Label Brut NV Champagne within it that features a bold and crisp flavour that any recipient is sure to fully enjoy. A great gift to give for any occasion you can come up with, this Lanson Champagne Magnum 150cl Gift Box makes the perfect present to have delivered to a special event, or even just as a way to say congratulations on a job well done. Simple to customise with a truly personal message if desired as well, this gift box will have anyone that receives it showering you with thanks for sending such a wonderful gift.
---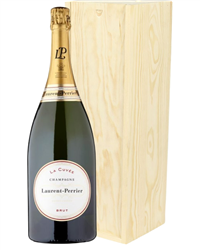 Laurent Perrier Champagne Magnum
An amazing gift box that allows any recipient to fully savour the flavour of the wonderful bottle of Champagne placed within it; this Laurent Perrier Champagne Magnum 150cl Gift Box provides them with more than enough volume to enjoy or even share with others if desired. A great gift option to send for a large array of different possible occasions or events, this incredibly versatile gift box makes an amazing option to send to a birthday party, a wedding, an engagement and beyond. Securely contained within a wool-lined wooden box and easy to personalise with a personal message, this gift box makes a lovely delivery that anyone would be truly thrilled to receive.
---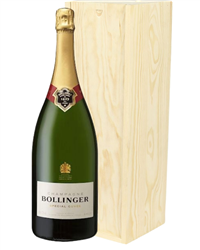 Bollinger Champagne Magnum
Elegant, stylish, and just right for delivery to any location or occasion, this Bollinger Champagne Magnum 150cl Gift Box provides anyone that receives it with an impressively large volume of nut-like, fruity, spicy, and delightful flavour that they won't be able to pass up. Presented in a fashionable wooden box and boasting an appearance that will stand out from every other gift they receive; this truly remarkable gift box will instantly become the recipients favourite present from the moment they open it. Personalise this gift with a heartfelt personal message if desired and know that you've sent the absolute best.
---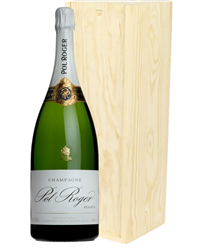 Pol Roger Champagne Magnum
Perfect for any event or gathering, get everyone talking with this elegant and delightful Pol Roger Magnum. Available to send anywhere in the UK, this gift contains a single Magnum (1.5 litres) of Pol Roger Champagne to enjoy on any occasion. It's packaged and presented in one of our classic wooden gift boxes and is protected with wood wool to ensure safe delivery. Whether for you or someone else, this is guaranteed to get the party started! You can personalise this gift with a written message and have it delivered either the next day or on a selected date of your choice. No matter the occasion, make it extra special with this exceptional gift.
---
---
10 Best Gifts for Champagne Lovers
Champagne makes the perfect gift for all occasions. It's a sophisticated and luxurious gift that will be appreciated by anyone who receives it.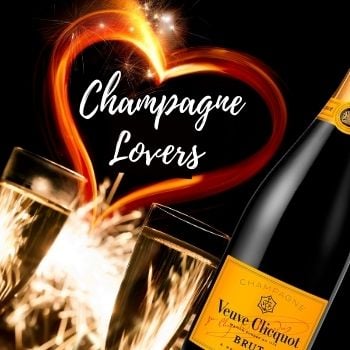 What is a Good Champagne to Give as a Gift?
Whether you're looking to say Happy Birthday, Congratulations or Thank You, we have the most beautiful gift sets created from the worlds most well-known brands. Here are our top picks when choosing the best Champagne to give as a gift.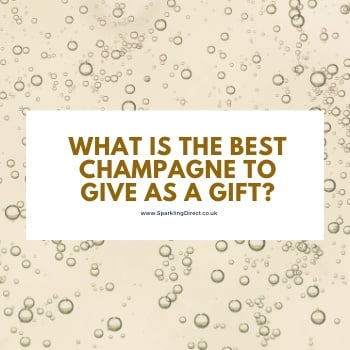 Is Champagne a Good Birthday Gift?
Champagne is more than just a good birthday gift, it's a great gift for someone who loves bubbly. A bottle of fizz is always a great way to celebrate and will always be appreciated by your friends and family. Our gift sets can be delivered the next day within London and throughout the UK.