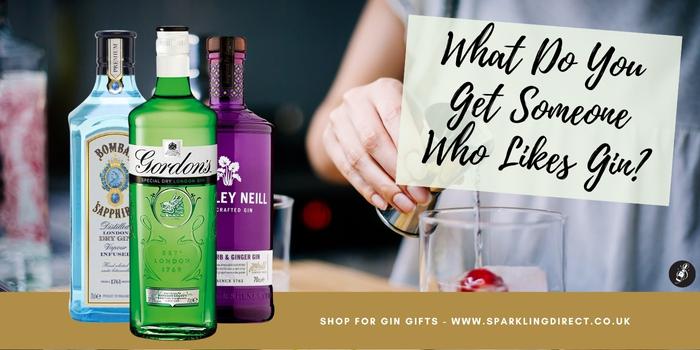 When it comes to Gin lovers, finding the right gift isn't always easy. So what is a good gift for someone who likes Gin?
A single bottle of Gin is enough to make any Gin-lover smile, but we've gone one step further with these exceptional Gin gifts. From single bottle gifts to delicious hampers, these five Gin gifts are a great place to start when finding a gift for a Gin lover. So why not take a look below and send one today?
---
Gin Birthday Gift Set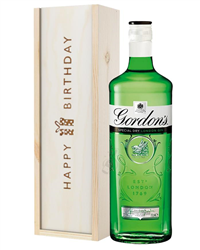 A tasty, high-quality gift that any gin-lover will truly appreciate. Presented in a sleek and solid wooden box with the words 'Happy Birthday' printed perfectly on top, when this Gordons Gin Birthday Gift Box arrives to its destination the birthday boy or girl will be truly thrilled to receive it. Easy to personalise with a message from you if desired as well, this remarkably high-quality gift box includes a single bottle of Gordons Special Dry London Gin within it and will get any birthday party started the moment it's delivered. Send a unique gift box to your favourite gin drinker and know they'll think of you with each and every drink.
---
Pink Gin and Balloon Birthday Gift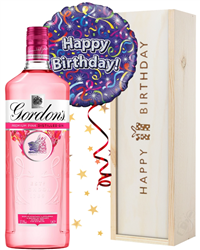 A unique and delightful pink gin gift box that is certain to make any birthday special from the moment it arrives. Containing a 70cl bottle of Gordons pink gin which has the taste of Gordons balanced with the sweetness of Raspberry, Strawberry and Redcurrant. Beautifully presented in a gorgeous wooden box and crafted with the words 'Happy Birthday' emblazoned upon the sliding lid and a delightful 18-inch happy birthday helium balloon as well. Easy to personalise with a message from you to make it clear who is sending their best birthday wishes.

---
Rhubarb Ginger Gin And Tonic Gift Set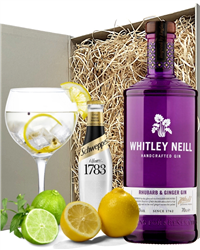 A one-of-a-kind gift box that features a unique combination of components that any gin-lover is certain to appreciate. Complete with a bottle of Whitley Neill Rhubarb and Ginger Gin, a bottle of tonic, a lemon and a lime; no other gift box on the market can match the truly delicious gin and tonic this gift set is certain to provide. Boasting the essence of rhubarb that adds a tart edge that the flavour truly needs, the taste of ginger is also included within this drink set, and provides a warmth to the overall taste that is needed to make the perfect gin and tonic from start to finish. Send this incredible gift box to any event from a birthday celebration to a housewarming party and beyond.
---
Tanqueray Gin And Chocolates Gift Set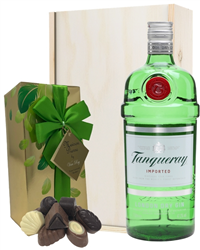 An elegant and sophisticated gift set that includes a single bottle of Tanqueray London Dry Gin as well as a 250g box of assorted Belgian chocolates within it; from top to bottom this remarkable gift box is designed to make a statement no matter what event you choose to send it to. Delivered in a solid and chic wooden box and filled with wood wool to assure this gift set arrives perfectly arranged, this Tanqueray Gin and Chocolates Gift Box can also be personalised with a message from you as well if desired. A great gift idea for any occasion, feel free to send this box to any engagement party, anniversary celebration or Christmas get-together and know you're sending the absolute best.
---
Bombay Gin Hamper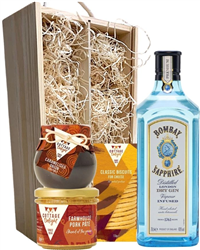 Delivered in a stylish, high-quality wooden gift box and lined with wood wool to ensure secure delivery no matter the occasion. This sleek and beautiful Bombay Gin Hamper makes the perfect gift for any occasion from a wedding to retirement and more. Complete with a single bottle of Bombay Sapphire London Dry Gin, a 90g jar of Cottage Delight Farmhouse Pate with Pork, a 115g jar of pickles and a 150g package of Oval Alberts Savoury Biscuits; every single taste of this marvellous gift set you enjoy is certain to satisfy any set of taste buds lucky enough to receive it. Easy to personalize with a message from you, feel confident sending this unique gift box to anyone from your brother to your boss to savour every bit of.
---
---
10 Best Gin Gift Sets
Searching for the perfect gin to give as a present? The UK's favourite spirit makes the perfect present for the gin lover in your life. We've got luxury gin gift sets that include a selection of flavoured gin gifts to suit every kind of gin-fluencer.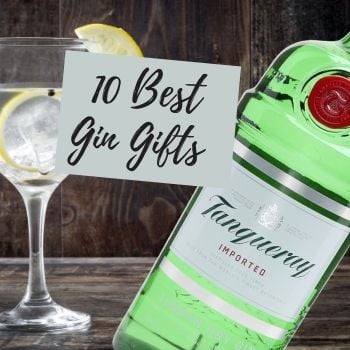 9 Best Gin Gifts For Her
Gifts for women can be hard to find. With so many choices, it's difficult to know what to get. So what do you get a female Gin-drinker?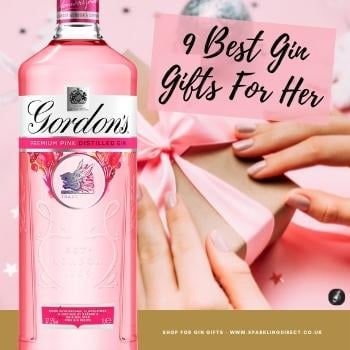 Can You Send Gin As A Gift?
Wondering whether Gin makes a good gift? No matter the occasion, find out why Gin makes a fantastic gift and how to send one in this post.