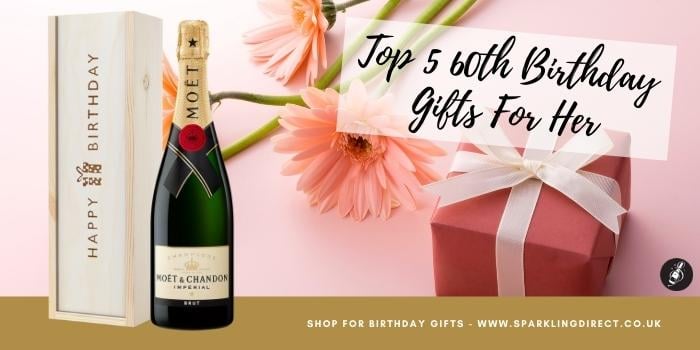 Gift hunting for a woman can be difficult, especially if you're unsure what to get. Luckily we can help. So what should you get a woman for her 60th birthday?
A bottle of something special is sure to help her celebrate in style! From Champagne to Wine, we have five gifts perfect to send straight to her door. Complete with a personalised message and UK delivery, you can't go wrong with any one of these 60th birthday gifts. So why not send one today?
---
60th Birthday Prosecco and Flute Gift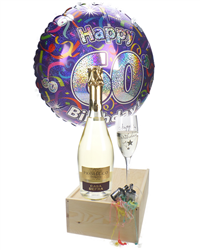 Celebrating a milestone such as a 60th birthday deserves something truly special to remember the day by, and this exclusively designed 60th Birthday Prosecco and Flute Gift Box is just what their special day has been missing. A gift set that offers so much more than just a simple bottle of wine, this amazing box includes a single bottle of delectable Casa Defra Prosecco within it, as well as a happy birthday flute-style glass to drink it with, plus party poppers and an already inflated 60th birthday balloon to complete the box. When a one of a kind set like this arrives at the party, everyone will be asking who sent such a fun gift.


---
60th Birthday Pink Gin and Balloon Gift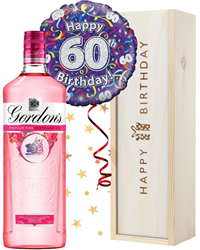 Gift someone this unique and fun bottle of Gordon's Pink Gin for their 60th Birthday. Bursting with fruity flavours and the taste of Gordons, this is sure to get the party started and provide a memorable gift. Delivered with a fully inflated 60th Birthday helium balloon, it's perfect for sending if you can't be there on their special day. Protected and packaged in one of our 'Happy Birthday' wooden gift boxes, you can also add a personalised message to send them birthday wishes. Get this gift delivered either the next day or on a date of your choice.
---
60th Birthday Champagne and Balloon Gift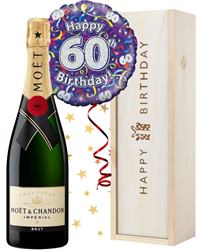 Bubbly, tasteful and perfect for any 60th Birthday, no matter who's celebrating, send someone turning 60 a bottle of Champagne to pop open. Available to send anywhere in the UK, treat someone to a single bottle of the luxurious Moet & Chandon Imperial Brut Champagne. It's beautifully presented in one of our wooden gift boxes with 'Happy Birthday' printed on the lid and wood wool lining. Plus, it's also sent with a fully-inflated 60th Birthday balloon that'll float out upon opening the package. Add a personalised message to complete this gift and have it delivered anywhere in the UK with next day or selected date delivery.
---
60th Birthday Baileys and Balloon Gift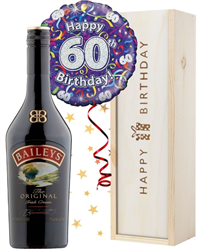 Something different but just as thoughtful, this single bottle of Baileys Irish Cream is a gift to treasure and indulge in. Make a 60th birthday extra special with this joyous gift bundle. Complete with a fully inflated 60th Birthday balloon, this gift is packaged and protected in one of our wooden 'Happy Birthday' boxes to ensure safe delivery. So even if you can't be there on the day, you can send birthday wishes straight to their door the next day or on a date of your choice. Finish the order with a personalised message and help them celebrate the milestone in the best way possible.
---
60th Birthday Wine Gift – Red Wine and Chocolates Gift Set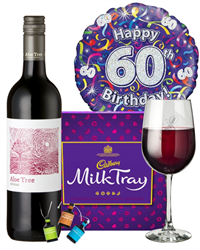 A delicious, and delightful, way to send someone a special Happy Birthday; this remarkably chic and high-quality gift box is designed to stand out from the crowd of gifts the recipient is certain to receive. Easy to personalise with a message from you as well if desired, every inch of this 60th Birthday Red Wine and Chocolates Gift Set is created to satisfy anyone you have it delivered to from your grandparent to your parent, sibling and beyond. Complete with a bottle of Shiraz, a 200g box of milk chocolates and a pre-inflated 60th birthday balloon that pops out when the box is opened; when this remarkable gift set arrives it's truly time to get the party started.
---
---
Best 60th Birthday Gifts For Mum
A 60th Birthday is a big occasion, especially if it's your mother's. You want to get her something meaningful to celebrate the milestone and make her feel appreciated.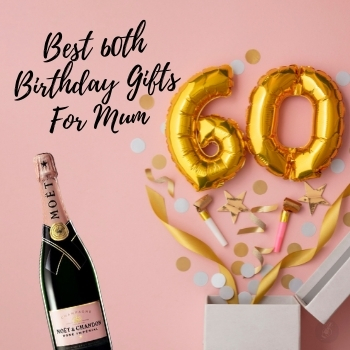 10 Last-minute Birthday Gifts for Grandma
Forgotten to buy Grandma's birthday gift? It's easy to get caught up and leave shopping until the last minute, which is why we've got you covered with these last-minute gift ideas.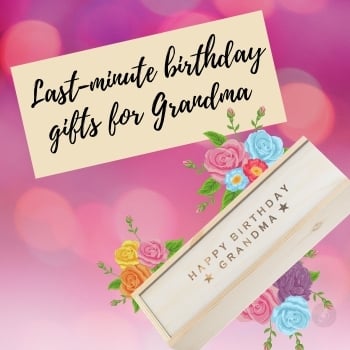 5 Best Birthday Gifts For Gin Lovers
Are you looking for a really unique birthday gift for a gin-loving friend? Look no further, our guide below lists 5 of our most popular gin presents.