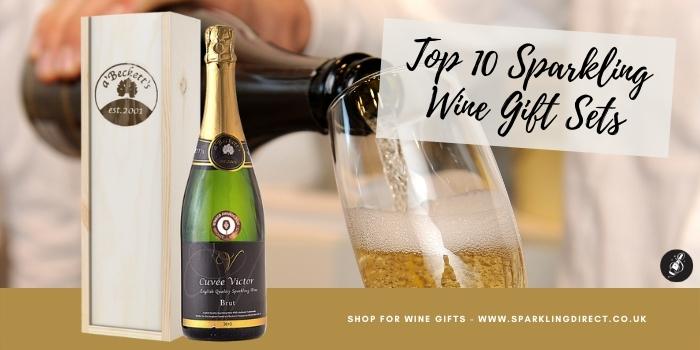 Sparkling wine makes a great gift no matter the occasion. But with so many to choose from, how do you know which sparkling wine gift is best to give as a gift?
A single bottle is perfect for a gift. Whether Cava, Prosecco or simply sparkling wine, we've got ten gift sets ideal for any occasion. Each is presented in a wooden gift box and includes a personalised message. So from birthdays to Mother's Day, you'll find the perfect sparkling wine gift right here!
---
English Sparkling Wine Gift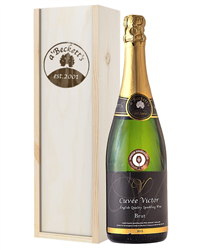 Beautifully British, treat someone to this English sparkling wine gift. Perfect for any occasion, this gift contains a single bottle of Cuvee Victor Brut to enjoy. It's produced in Wiltshire by a'Beckett's vineyard, with the finest English grapes to create a delicious flavour like no other. Not to mention it's vegan friendly. Packaged and presented in one of our wooden gift boxes, this gift can be sent anywhere in the UK and delivered either the next day or on a date of your choice. Plus, add a personalised message to be printed and included with the gift. It's a wonderful and unique wine gift for any lucky recipient.
---
Prosecco and Chocolate Gift Set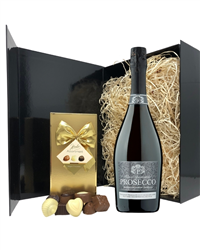 A truly delectable gift set anyone would love to receive. From the elegant wool-lined box to the remarkably delicious items placed within it, this sincerely sumptuous set is certain to assure that anyone it's sent to will fall in love with it instantly. Sophisticated in both composition and appearance, this Prosecco and Chocolate Gift Set features a single bottle of our exquisite Prosecco Spumante alongside 125 grams of luscious Belgian chocolate and comes in a sleek, black carded gift box as well; making certain this set arrives safely and looking as chic as possible. Add your own personal touch by adding a message to send along with it if desired.
---
Chandon Rose Sparkling Wine Gift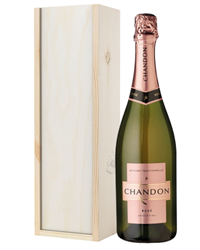 An elegant and versatile gift option ideal for delivery as part of any occasion or event. Whether you send this Chandon Rose Sparkling Wine Gift Box as a Christmas gift, a birthday present or as a special thank you or congratulations for someone you care for; no matter who receives this remarkably gift set you can be certain they'll be absolutely thrilled to enjoy it from start to finish. Easy to personalise with a message and complete with a bottle of Moet & Chandon Rose Sparkling Wine within it, this simply gorgeous gift set features nothing but sweet and delicious flavours and a red berry aroma that no other present option can match.
---
Cava And Belgian Chocolates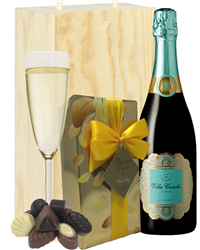 Carefully packaged and perfectly contained within a solid wooden gift box; the bottle of Villa Conchi Cava and 250g ballotin of assorted Belgian chocolates contained within this chic and sturdy gift box is designed to fully satisfy anyone fortunate enough to receive it. Easy to customise with a personal message from you and ideal for delivery for any event of occasion that comes up; every inch of this Cava and Belgian Chocolate Gift Box is meant to fill any recipient with true warmth and absolute appreciation in a way that no other gift ever could. Send this bold gift set to your brother, cousin, aunt, father or friend and know for absolute certain they'll savor every single taste.
---
Casa Defra Prosecco Frizzante Gift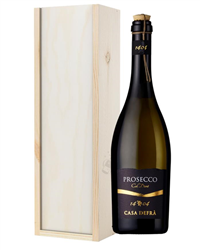 Just the gift set any special occasion requires; from the moment this amazing Casa Defra Prosecco Frizzante Gift Box is opened, any celebration it's included in, or sent to, can truly commence. Amazingly delicious, semi-sparkling, and full of incredible flavour, the single, spectacularly tasty bottle of Casa Defra Prosecco Frizzante in this gift box offers a truly unique, palate-pleasing taste no other bottle provides. Beautifully contained within a high-quality, stylish wooden box and padded securely for delivery, this gift box can also include a personalised message along with it, assuring the person receiving it knows just who it's from upon arrival.
---
Sumarroca Cava And Belgian Chocolates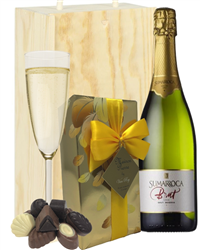 A stunning gift set you can send to anyone from your spouse or significant other to a friend or even a colleague from work. Carefully packed into a high-quality wooden gift box and lined with wood wool for secure delivery; this Sumarroca Cava and Belgian Chocolate Gift Box makes a wonderful Christmas gift, anniversary present or staff incentive that anyone can appreciate every bit of. Complete with a single bottle of Sumarroca Brut Cava and a 250g ballotin of assorted Belgian chocolate truffles included within it, this remarkably chic gift box is also easy to personalise with a message from you as well if desired.
---
Prosecco and Cheese Hamper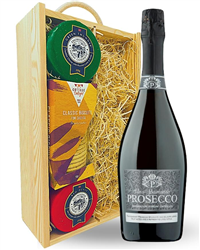 Know a Prosecco lover that also loves cheese? This is the perfect gift no matter the occasion! Make someone smile by sending them a single bottle of Vino Spumante Prosecco along with a box of Cottage Delight Biscuits, Snowdonia Green Thunder Cheese and Snowdonia Red Devil Cheese. Green Thunder is a Cheddar Cheese with roasted garlic and herbs. Red Devil is a Red Leicester with Habanero chillies and peppers. It's all presented in one of our wooden gift boxes and is protected with wood wool. You can also personalise this gift with a written and printer gift message. Send it anywhere in the UK with next day or selected date delivery for the perfect surprise!
---
Langlois Brut Sparkling Wine Magnum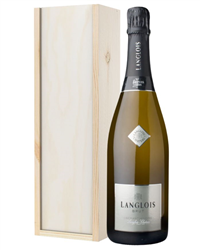 The ideal addition to any large event from a wedding or engagement party to a baby shower and beyond; from the moment this Langlois Brut Sparkling Wine Magnum Gift Box arrives to its intended destination the recipients will be more than happy to enjoy glass after glass until it is finally gone. Delivered in a sturdy wooden box lined with wood wool to make certain it's delivered looking it's best, this sleek and gorgeous gift set boasts nothing but bold and delicious flavours unlike any other. Complete with a magnum-sized bottle of Langlois-Chateau Cremant de Loire Brut Sparkling Wine within it and sure to satisfy anyone that receives it, no matter how casual or in vogue their tastes may be.
---
Prosecco Spumante Gift
A fantastic, fashionable, and remarkably popular gift that is certain to make anyone's day. Featuring a bold, full flavour and a simple, chic look; this Prosecco Spumante Gift Box includes a wooden box with a wool lining as well as a single bottle of Prosecco Spumante wine from the Casa Defra family vineyards. Packed to be safe for delivery and easily personalised via an included personal message if desired, this amazing gift set makes a great reward for a job well done or a life well lived. A full sparkling wine with a crisp flavour and a chic design from the cork to the bottle's bottom.
---
Rose Gold Prosecco Magnum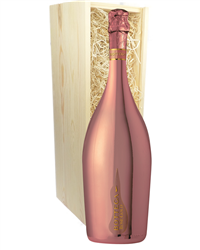 Make any occasion big and tasteful with this gorgeous Prosecco Magnum gift. Whether for a hen party, milestone birthday celebrations or wedding gift, send a single Magnum of Bottega Rose Prosecco to share with friends and family. Not only does it look great, but it tastes fantastic too! This rose wrapped bottle is packaged and presented in one of our wooden gift boxes and is protected with wood wool to ensure safe delivery anywhere in the UK. If you're sending this as a gift, you can also add a personalised message to make the occasion extra special. Have it delivered with next day or selected date delivery.
---
---
The 10 Best Wine Gifts
Searching for the best gifts for wine lovers can be a little challenging sometimes–especially when it comes to finding something unique.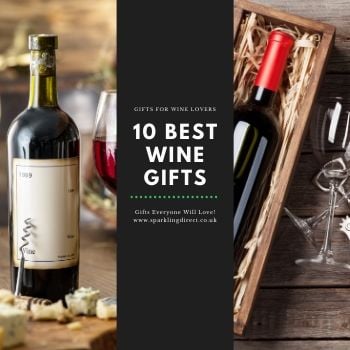 10 Best Italian Wine Gift Sets
Everyone knows the Italians are exceptional winemakers. But which bottles are the best to buy? Prosecco and Pinot Grigio are great choices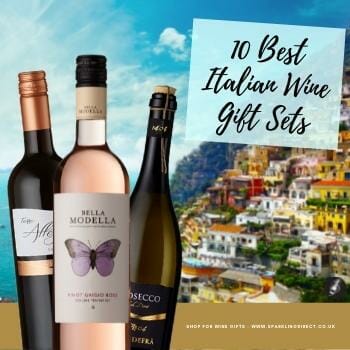 5 Best Wine Gifts For Couples
It's always nice to share a glass of wine or two with your partner. But rather than buy the same bottle over and over again, why not try something different?