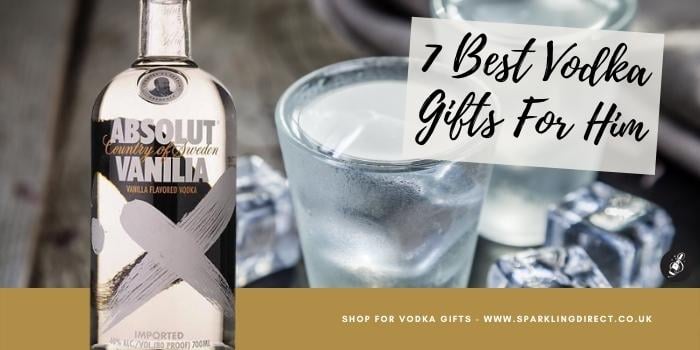 What do you get a man that loves Vodka? It can be a tough question to answer, but luckily we have all the answers right here!
A bottle of his favourite Vodka is the perfect place to start. We've pulled together our top Vodkas to create the ultimate gift guide for any Vodka-loving male in your life. No matter the occasion, you'll find the perfect gift to send right here. So why not take a look and send one to someone today?
---
Grey Goose Vodka And Chocolates Gift Set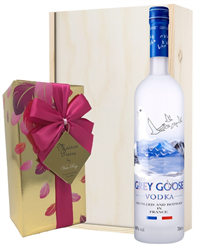 Presented in a lovely wooden gift box and created to fully satisfy anyone it's sent to, every single bit of this Grey Goose Vodka and Chocolates Gift Set is meant to offer total enjoyment from beginning to end. Easy to customise with a personal message just from you if desired, this gift box is truly ideal for delivery to nearly any location you can come up with. Boasting nothing but smooth flavour as well as an elegant look, this gift box includes a single bottle of high-quality Grey Goose Vodka and 250g of assorted Belgian chocolates to enjoy. A wonderful gift that anyone from your Mum to your boss will fully appreciate receiving.
---
Absolut Vanilla Vodka Gift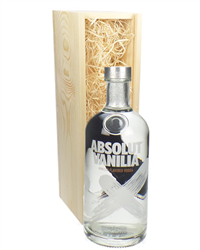 Since 2003, Absolut Vanilla Vodka has been shaking up the world of cocktails and Vodka. Made exclusively from natural ingredients, this unique flavour is perfect for any gift occasion. Whether to celebrate a birthday or new job, this is sure to get the party started and everyone talking. Rich, robust and complex, let them taste the character of vanilla, notes of butterscotch and hints of dark chocolate contained in this Vodka. Drink it short or in cocktails, its' perfect for vodka lovers around the UK. Delivered in a wooden gift box the next day or on a date of your choice with a personal message.
---
Smirnoff Vodka Hamper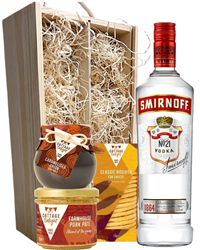 An incredibly luxurious gift box that boasts nothing but exquisitely elegant flavours from the first bite to the very last sip. The perfect present for delivery to any location, or event, you desire; when you choose to send one of this remarkably unique Smirnoff Vodka and Pate Gift Boxes, you can rest assured any recipient will be truly thrilled to receive, and enjoy, every bit of it. Delivered in a solid wooden gift box and lined with wood wool to ensure secure delivery to any location, this magnificent gift set includes a single bottle of Smirnoff Red Label Vodka, a 90g jar of Cottage Delight Farmhouse Pate with Pork, a 115g jar of pickles, and a 150g package of Oval Alberts Savory Biscuits to enjoy.
---
Ciroc Vodka Triple Gift Set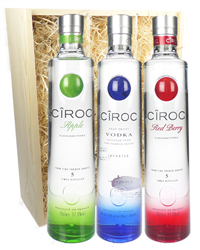 Deliver three times the fun with this whopper gift set containing three bottles of delicious Ciroc Vodka. Treat someone to three different flavours of the famous French Ciroc Vodka to enjoy in any way they please. This gift set will provide plenty of glasses to last and enjoy down to the last one, whether in fruity martinis or with fizzy mixers. The flavours included are; Apple, Red Berry and Original, providing a broad mix of different tastes to indulge in. Get this triple set delivered the next day or on a date of your choice, and add a personalised message to be included with the gift. If you're looking for a fun and trendy Vodka gift, this is definitely it.
---
Belvedere Vodka Gift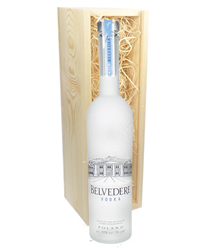 A one of a kind gift set that includes a single bottle of Belvedere Vodka placed securely within it, from end to end this stunning gift box boasts absolute class and elegance throughout every single inch. Authentically distilled in Poland and produced via the same methods for the last 600 years, the amazingly smooth bottle of Belvedere Vodka that is included in this gift box is absolutely certain to satisfy any vodka lover that is looking to celebrate with a little something special. Presented in a well-made wooden gift box and the perfect present for anyone from your boss to your best mate or an aunt you only see once a year; anyone that receives this gift is going to truly appreciate each and every sip.
---
Absolut Vodka Twin Gift Set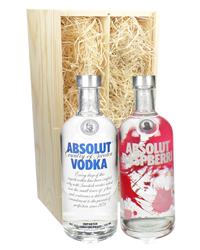 This Absolut Vodka gift set is both fun and unique. From 21st Birthdays to Anniversaries, nothing says trendy more than these two. Made in Sweden, this collection includes two single bottles of the finest flavours of Absolut: Original and Raspberri. Both make an excellent selection for any Vodka lover and will be sure to surprise no matter the occasion. Packaged in a twin wooden box, complete the gift with a personal message and have it delivered either the next day or on a day of your choice anywhere in the UK.
---
---
10 Best Vodka Gift Sets
The best Vodka gift would be one that's unusual and personal to the recipient. Absolut gift sets, unique Chase Vodkas or even single bottles of Ciroc in gift boxes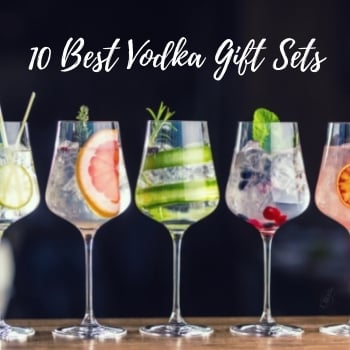 Top 5 Vodka Gift Sets For Her
Whilst many think that diamonds are a girl's best friend, Vodka can also be too. But what are some good Vodka gifts to give a woman?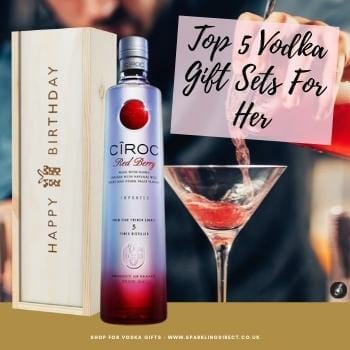 Vodka Gifts By Post
We've made it easy to send a Vodka gift to anyone in the UK for any reason. So whether it's for a birthday or celebration, you can select and send luxury gift sets for him or her. These Vodka gifts are perfect for sending by post.