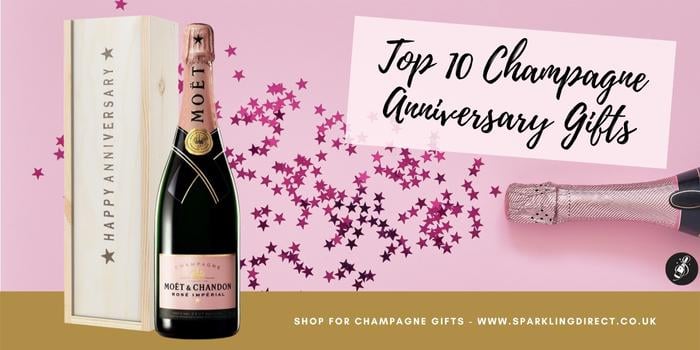 When it comes to anniversary gifts, Champagne is a fantastic choice when you're unsure what to get. So what is a good Champagne for anniversary gifts?
We've highlighted ten Champagne gift sets perfect for any happy couple celebrating an anniversary. From big, luxurious gifts to simple single bottles, these ten gifts are the perfect selection no matter the number of years being celebrated. So take a look below and send one anywhere in the UK.
---
Champagne Anniversary Gift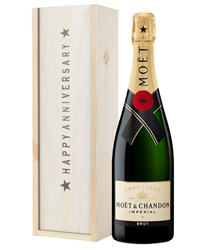 A chic and incredibly delicious gift option that is truly ideal for celebrating any, and every, anniversary that comes up this year. Complete with a single bottle of Moet & Chandon Imperial Brut Champagne and easy to personalise with a message from you as well, this sleek and high-quality Champagne Anniversary Gift Box offers extraordinary taste and unmatchable style you simply won't get from any other present like it on the market. Presented in a sturdy wooden gift box lined with wood wool, this amazing gift also features the words 'Happy Anniversary' printed clearly on top to assure any recipient knows exactly why they've received such an amazing gift to enjoy.
---
1st Wedding Anniversary Gift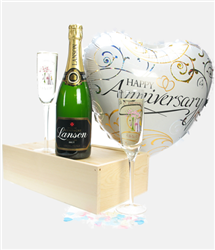 Any first wedding anniversary is very special and must be celebrated with this perfect gift. No matter where they live in the UK, send them this exclusive and delightful first wedding anniversary gift containing; a single bottle of delicious Lanson Black Label Champagne, a pair of beautiful 1st wedding anniversary Champagne flutes and a Happy Anniversary helium balloon. It's the perfect gift! Plus, top it off with a personal message, written to the happy couple, so they know who it's from. Have it sent straight to their door with either next day or selected date delivery anywhere in the UK. There's no gift more suitable for a first wedding anniversary than this one!
---
Bollinger Red Flute Set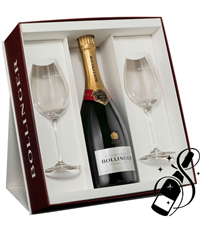 A gift set that is truly designed for two to share; from the voluminous bottle of Bollinger Special Cuvee Champagne to the two crystal-clear branded Bollinger flutes from which to enjoy it, this remarkably chic Bollinger Red Flue Set makes the perfect present to send to that special someone in your life. A limited-edition set that arrives in a bold red and amazingly elegant Bollinger gift box, no matter where you choose to have this set delivered it will easily stand out from every other gift that is received. A fantastic, fashionable gift box that makes a wonderful present for anyone that can fully appreciate the flavour that a bold, red wine offers.
---
Pink Champagne Anniversary Gift
A delightfully delicious gift set that features a single bottle of Moet NV Rose Champagne within it; if you've been searching for a one-of-a-kind anniversary gift, this truly remarkably gift set offers everything you want, and so much more. Presented in a solid wooden gift box and lined with wood wool to ensure secure delivery to any location, this Pink Champagne Anniversary Gift Box can help celebrate any anniversary from a wedding to years spent working a career and more. Easy to personalise with a message from you as well if desired, this amazing gift box makes any anniversary as great as it can possibly be.
---
25th Wedding Anniversary Gift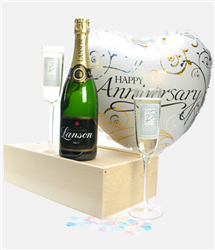 If there's any anniversary that needs extra special celebrations, it's a 25th Anniversary. Whether for a friend, family member or your partner, help them celebrate the occasion with a single bottle of Lanson Black Label Champagne and a pair of 25th Wedding Anniversary Champagne flutes as a keepsake. No gift is more special than this complete and elegant set. Perfected with a helium Happy Anniversary balloon, this gift can be personalised with a written message and be delivered the next day or on a day of your choice.
---
Laurent Perrier Champagne Magnum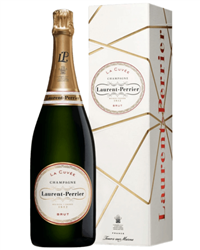 A large and luxurious gift that is certain to satisfy even a seasoned wine aficionado; with each and every taste of the truly delicious Laurent Perrier La Cuvee Champagne inside this gift box, you will instantly experience absolute pleasure and bliss. Presented in a lovely Laurent Perrier branded, carded box and boasting an incredibly chic appearance from the outside in; not only is this gift box sure to catch attention anywhere it's delivered, it's also certain to completely fulfil every expectation about how remarkably delightful this champagne may be. This Laurent Perrier Champagne Magnum 150cl Gift Box makes an amazing gift that can be sent to an impressive array of different possible occasions from a housewarming to a wedding and more.
---
Moet & Chandon Vintage Champagne Luxury Gift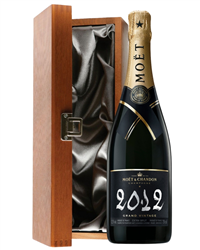 Luxurious and sophisticated, this bottle tastes as good as it looks. Treat someone to this outstanding single bottle of Moet & Chandon Vintage Champagne and help them celebrate in style. Complete with a luxurious stained wooden box with traditional joints and clasps, this is a gift for exceptional occasions and is sure to show someone how much you care. Grey silk lines the inside of the box, protecting and presenting the bottle in the best way possible. Complete the order with a personalised message and have it delivered the next day or on a day of your choice.
---
Veuve Clicquot Vintage Champagne Congratulations Gift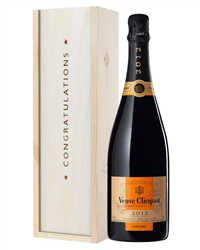 A remarkably unique way to send congratulations to anyone in your life; whether this gift box is sent to a friend celebrating their wedding or your grandparents celebrating their 50th anniversary, any recipient is certain to love every sip it offers from beginning to end. Delivered in a solid wooden gift box lined with wood wool to assure secure delivery to any location, from front to back this Veuve Clicquot Vintage Champagne Congratulations Gift Box features absolute sophistication and true style unlike any other present on the market you could send. Full of flavour and amazingly delicious, this simply fashionable gift set can be customised with a personal message from you as well if desired.
---
Laurent Perrier Rose Champagne & Chocolates Gift Box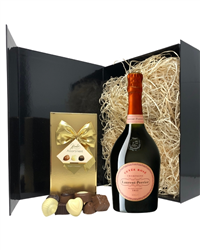 A unique way to send your beloved a "rose" and some delectable chocolates to enjoy; every bit of this incredible Laurent Perrier Rose Champagne & Belgian Chocolates Gift Box is meant to fully satisfy anyone lucky enough to receive it. A truly beautiful present that is carefully packed within a simple yet stylish wooden gift box; this amazing gift set contains a single bottle of Laurent Perrier Rose Champagne as well as a ballotin of 250g, or approximately 20, assorted Belgian chocolates. Complete with an enclosed plastic, printed gift card that can be personalised by you, this remarkable gift box boasts nothing but wonderful flavour, no matter which portion of this set you're currently enjoying.
---
30th Wedding Anniversary Gift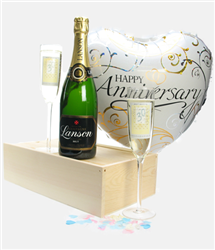 30 years together cannot go uncelebrated and deserves an extra special gift. This is the perfect gift for any couple celebrating a milestone. Let them celebrate in style with a single bottle of Lanson Black Label Champagne with a pair of 30th Wedding Anniversary flutes to keep for memories of the occasion. Packed with a fun, helium Happy Anniversary Balloon, this gift is guaranteed to make the occasion feel both memorable and distinct. Finish the gift with a personalised message and have it delivered the next day or on a date of your choice.
---
---
10 Best Wedding Anniversary Gifts
Looking for a modern wedding anniversary gift for someone but don't know what to get? We've got some ideas for you! What are good wedding anniversary gifts?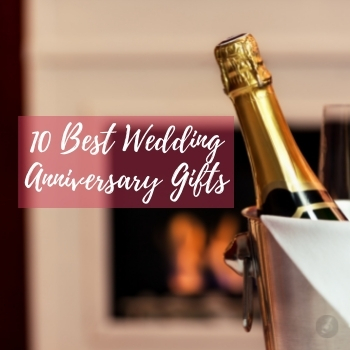 Top 12 Anniversary Gifts By Post
Know someone celebrating an anniversary? We have just the gift! Take a look at these 12 best-selling anniversary gifts for some inspiration.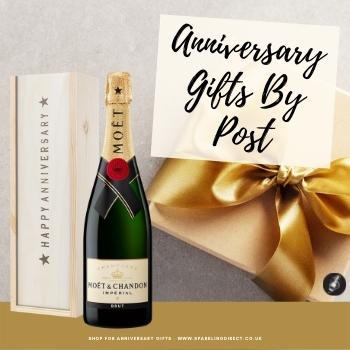 7 Best Anniversary Wine Gifts
Every couple deserves a special, celebratory drink to celebrate their years together. Whether for their 1st, 20th or 50th anniversary, you want to get them a special bottle to share. But is wine a good anniversary gift