The best Christmas gifts for Prosecco Lovers. We have hand-picked a range of Prosecco gifts which can be delivered next working day throughout the UK.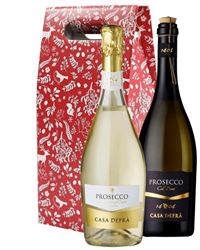 An amazing gift that is certain to brighten up any Christmas celebration, this gift set is fashionably presented in Christmas carded gift box and boasts an elegant appearance from top to bottom. Containing two different types of Casa Defra Prosecco varieties within it, this Christmas Prosecco Mixed Twin Wine Gift Box features a crisp and full flavour throughout each bottle and every tiny sip. Complete with a single bottle of semi-sparkling Frizzante and a single bottle of full-sparkling Spumante included, this gift box will certainly bring a smile to any recipient's face, no matter the time of day or year.
---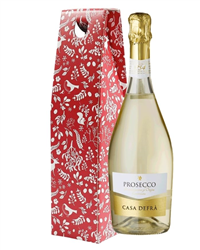 Celebrating the holiday season has never been easier than this. Ideal for delivery to anyone on your Christmas gift list from your best friend to an aunt you only see once a year; this Christmas Prosecco Gift Box is even great to send to co-workers, customers or as a bonus to your employees for a job that has been truly well done. Presented in a lovely, festively designed, carded gift box and certain to stand out from every other gift your recipient receives, this gift box provides anyone you choose with a little something special to get them through the holiday season happily.
---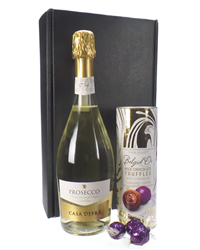 A Prosecco lovers ideal gift set; from the single bottle of Casa Defra Prosecco to the 175g box of Prosecco-infused Belgian Chocolate Truffles, this amazing box is certain to taste as high-quality and delectable as it looks. A wonderful present to be delivered to nearly any occasion or event, whether your best mate is getting married or your uncle is celebrating his retirement, anyone that receives this will feel truly special to receive such an elegant gift. Easy to personalise with a message from you along with it as well, this Prosecco and Prosecco Chocolate Truffles Gift Box is designed to stand out from any other gift they receive.
---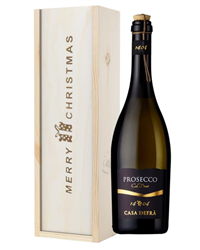 Full of flavour, elegance and style from the outside in; not only does this Casa Defra Prosecco Frizzante Single Bottle Christmas Gift Box provide any occasion with a classy bottle of semi-sparkling wine to enjoy, but it also adds true sophistication to any location it's delivered to. Produced by the Cielo family vineyards that pride themselves on sustainable viticulture and takes true pride in each bottle of wine created, this gift box is designed to provide a delicious taste without harming the environment around it in the process. Presented in a well-made wooden gift box lined in protective wood wool material, this set is crafted to arrive looking it's best, no matter what.
---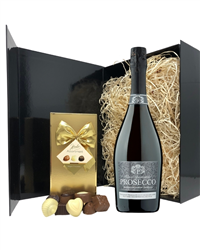 A truly delectable gift set anyone would love to receive. From the elegant wool-lined box to the remarkably delicious items placed within it, this sincerely sumptuous set is certain to assure that anyone it's sent to will fall in love with it instantly. Sophisticated in both composition and appearance, this Prosecco and Chocolate Gift Set features a single bottle of our exquisite Prosecco Spumante alongside 125 grams of luscious Belgian chocolate and comes in a sleek, black carded gift box as well; making certain this set arrives safely and looking as chic as possible. Add your own personal touch by adding a message to send along with it if desired.
---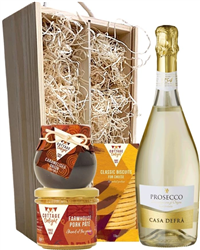 A chic and elegant gift set that boasts absolutely nothing but total class and sophistication from the inside out. Complete with a single bottle of Casa Defra Prosecco Spumante within it for a crisp and delightful flavour, this gift box also contains 90g of Cottage Delight Farmhouse Pate with Pork, a 115g jar of pickle and a 150g package of Oval Alberts Savoury Biscuits as well to create a flavour profile that anyone would love to enjoy. Delivered in a stunning wooden box and lined with a protective wood wool layer inside to assure it arrives looking fabulous, this truly amazing Prosecco Sparkling Wine and Pate Gift Box is perfect for Christmas.
---
View our range of Prosecco Christmas Gifts.