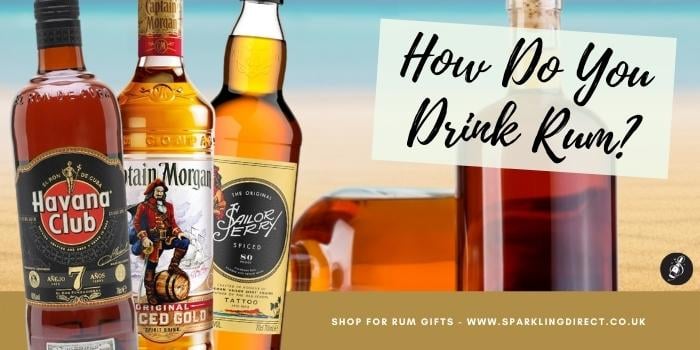 Rum is a delicious treat, especially in the summer. But how to consume it is always a pause for thought. So how do you drink Rum?
The way to drink Rum is a lot like Whisky. It should be served either straight or over ice in a small glass. If it's your first time, a splash of water is recommended. Plus, every glass of Rum should have a lime wedge. You can warm Rum up but it's best to pour and enjoy at room temperature. The only other way to enjoy Rum is in a cocktail, such as a Mojito, or with a mixer such as Coca Cola.
So now that you know the proper way to drink Rum, which Rum should you enjoy? These five Rums are the top choices. From spiced to dark Rum, each of these Rums offer a different tasting experience. So why not take a look and treat someone to one today? It's the perfect gift selection!
---
Sailor Jerry Rum Birthday Gift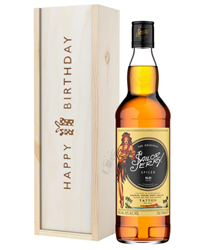 Housed within a sleek and solid wooden gift box branded with the words Happy Birthday perfectly on top, this Sailor Jerry Rum Birthday Gift Box is designed to bring true satisfaction to any rum-lover celebrating their special day of the year. Easy to personalize with a message from you as well, this elegant and sophisticated gift set adds instant class to any birthday bash or party it's sent to. Complete with a single bottle of Sailor Jerry Caribbean Spiced Rum within it, this remarkably unique gift set is created to assure your gift stands out from the pile of presents they receive to celebrate their birthday this year. Have this gift box delivered to your friend, your significant other or a member of your family and feel confident knowing they'll enjoy every taste it provides.
---
Havana Club 7 Year Old Rum And Chocolates Gift Set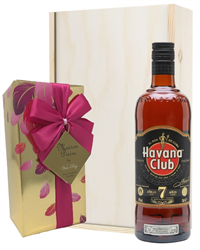 Boasting an oaky, toasty character that is designed to be sipped from top to bottom, the single bottle of Havana Club 7-Year-Aged Premium Dark Rum included inside this gift box is certain to provide nothing but bold and delicious flavours unlike any other. Delivered in a solid wooden gift box and complete with a 250g box of Belgian chocolate truffles as well; this Havana Club 7-Year-Old Rum and Chocolates Gift Set offers incredible flavour and a remarkably stylish appearance from front to back. A great gift option for any event from a birthday or anniversary to a wedding or even as a Valentine's Day surprise, this gift box will satisfy anyone with a taste for a unique rum and a sweet tooth.
---
Captain Morgan Spiced Rum Hamper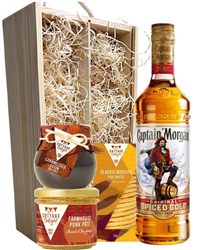 A truly gourmet gift box that features an amazing blend of flavours that are both bold and savory in taste. Complete with a single bottle of Captain Morgan Spiced Rum as well as 90g of Cottage Delight Farmhouse Pate with Pork, a 115g jar of pickles and a 150g package of Oval Alberts Savory Biscuits; this remarkably unique and incredibly delicious gift box is the perfect addition to any event, occasion or any day of the year for no reason at all. Presented in a sturdy wooden gift box lined with wood wool to ensures secure delivery to any location, this Captain Morgan Spiced Rum and Gourmet Food Gift Box makes the perfect present for Valentine's Day, Christmas, an anniversary, or even as a birthday gift if desired.
---
Bacardi Rum Thank You Gift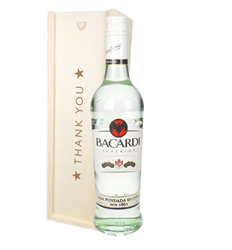 Featuring a single bottle of Bacardi Superior White Rum and the perfect present for any rum-lover in your life; this Bacardi Rum Thank You Gift Box is a one-of-a-kind way to thank anyone from your parent for always being there for you, a friend for taking part in your wedding or even co-worker for a job well done a project you worked on together. Presented in a sturdy wooden gift box lined with wood wool and branded with the words 'Thank You' on top, this remarkably simple yet high-quality gift box can also include a personal message from you included along with it if desired.
---
Captain Morgan Rum Congratulations Gift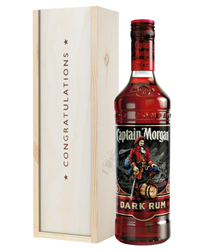 Whether to celebrate a new job, good results or a life milestone, send a tropical congratulations with this delicious gift set. Send a single bottle of Captain Morgans Dark Rum to any Rum lover in your life with a reason to party! It's packaged and presented in one of our wooden gift boxes with 'Congratulations' printed on the lid and wood wool lining to ensure safe delivery. Plus, extend your congratulations with a personalised message to make this the most heartfelt surprise! You can have it delivered anywhere in the UK with next day or selected date delivery, so no matter what, you can send someone this fantastic gift set.
---
---
10 Best Rum Gift Sets
Whether you're looking for something unusual, spiced, or simply the best Rum gift, we've got ten that will please any Rum drinker.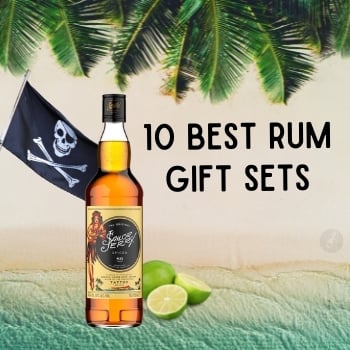 7 Best Spiced Rum Gift Sets
Rum is always a unique and unusual present, regardless of the occasion. When looking for a gift for a rum lover, it's easier to know what to look for.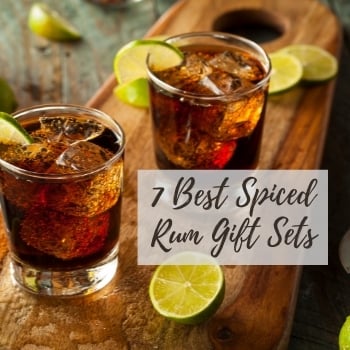 What Kind Of Alcohol Should I Give As A Gift?
Alcohol makes a great gift for many different occasions. But it can be difficult to know which one is the best choice. So what is a good alcohol to give as a gift?