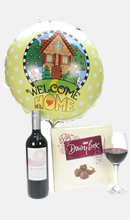 Never struggle to think what to get a friend or colleague who has moved house again. We offer some great housewarming gifts that are suitable for any type of person, whether they are first time buyers, middle of the road property ladder types, home downsizes or simply renting – a new place to live and make a home is a thing that should be celebrated and our housewarming gifts will certainly do that.
Our new home gift ideas have a complete section on our website all to themselves, although having said that any of our 800 plus gifts would make a great new home present. Nowadays, many people already have the necessities when it comes to setting up a new home and therefore don't need that shiny new kettle, toaster or saucepan. Sure you could get them a new door mat or an ornament but you are never sure if that will see the light of day or be among the other unused things in the loft or attic.
Our new home gifts make a celebration of moving and are designed to be used and enjoyed. So why not send a new home present that combines a bottle of wine or Champagne, together with some delicious milk chocolates and a fun helium balloon. Making a far more welcoming housewarming gift I am sure you will agree.
Don't forget we deliver right across the United Kingdom on the day of your choosing, including Saturdays, so your gift can be delivered either on the day of moving in or just after if you prefer. The wine we have selected is amongst our most popular and you can choose from a fine tasting Pinot Grigio white wine to a lovely fruity Sangiovese from the Northern vineyards of Italy.
If you want to spend a little bit more then the wine can be substituted for a bottle of Champagne which really will let the new home owners celebrate with a pop. Some of the other housewarming gifts that we offer and recommend include a lovely bottle of sparkling rose wine presented together with a box of Belgiun truffles.
If you don't fancy sending chocolates then why not send a fantastic bottle of Champagne and two flutes or a bottle of Champagne and an ice bucket to really get the party started. Of course if you feel that one bottle simply wont do then don't forget that we can deliver two, three, six or twelve bottle gifts of either wine of Champagne.
We also do larger format bottles such as Magnums (1.5lr) Jeroboams, Methuselah's and all the sizes up to the largest Nebuchadnezzar. If the person is not really a wine or Champagne fan then we also deliver Whisky's, Gin, Vodka, Cognac or Port amongst other things so take a browse at all our new home gift ideas.