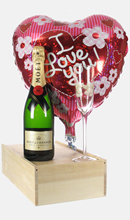 So are you ready for another saint Valentines day. February 14th is looming upon us again and if you are either in a relationship or trying to get a new romance of the ground, you need to get your act together and arrange for a gift to be sent.
Sure you can stop off at the shops and buy a bottle of wine or some chocolates, you could even buy a lovely bouquet of flowers but if your not careful it will look like you had forgotten and had to stop off at the local garage on the way home to get something last minute.
Avoiding any of this is easy – simply order your Valentines day gift from us and we will ensure it is delivered on the day of the 14th. We can deliver early doors to your valentine at home or if you prefer we can deliver directly to their place of work.
Many of the ladies love to get a wonderful bottle of Champagne and some chocolates whilst at work in front of all their work colleagues, showing your affection in public and by contrast this tends to embarrass some men folk so its sheer devilment to arrange the same!!
Our Valentines day gifts are designed to please and don't forget we can deliver a bottle of wine for under £20 which is great value – in fact for you players out there, why not spread the love and keep your options open by sending more than one!!!
Our 'love anyone enough' gift is a quirky one for Valentines day and consists of a single bottle of our house champagne together with a simple tube of Rolo's, so don't just get them your last one – send the entire packet.
As with all our gifts you specify where and when you want the gift to arrive and can add a gift message, don't worry about sending that sloppy message we have heard them all, including marriage proposals so no need for any embarrassment here, anyway you can complete your order all online so you don't even have to dictate the message to anyone.
It's a cliché but it works, pink rose champagne is always a winner for this special occasion and we stock all the major ones, from our house Rose to Lanson rose, Moet Rose, Veuve Clicquot Rose, Bollinger rose and the iconic bottle design of Laurent Perrier rose – which still remains one of the best sellers all year round.
We have created several Rose champagne valentines gifts for you to choose from to include pink cuddly bears, chocolates, pink flute glasses, truffles or a selection of them all, so go on and spoil someone this year – you know they deserve it.
View our range of Valentines Day Gifts or Simply Choose a Champagne or Wine Gift