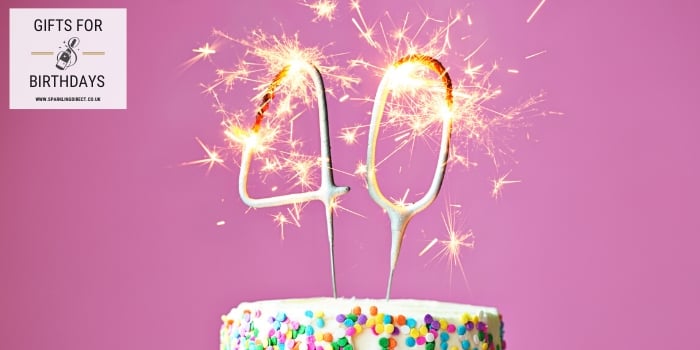 So you know someone who has reached perhaps one of the biggest age milestone birthdays there is, the big four O, forty, dare I say middle age, now I do know all about this as I happen to have reached this myself.
Sending 40th birthday gifts is one of our specialities. We have many ideal birthday gifts to help you out. A present for a 40th can be challenging to get as they generally have a lot of the things that they want upon reaching a more affluent era of their life (well that's the theory anyway!) so why not send them something that will help them celebrate reaching 40.
---
---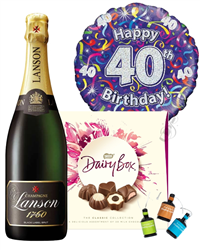 40th Birthday Champagne and Chocolates
A great way to celebrate the 40th birthday of anyone in your life from a family member to your best mate and beyond. Perfect for sending to any birthday party, bash or get-together; from front to back this 40th Birthday Champagne and Chocolates Gift Box offers truly delicious flavours that no other gift set on the market can match. Complete with a bottle of Lanson Black Label Champagne, a 200g box of milk chocolates and a colourful 40th birthday balloon that pops out when its opened; this amazingly gorgeous gift set is ideal for delivery to anyone turning 40 that could use something special to smile about.
---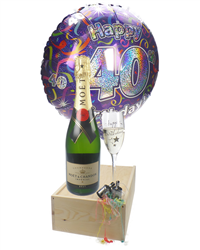 40th Birthday Moet Champagne Gift
A birthday celebration in a box; not only does this incredible 40th Birthday Gift Box include an inflated 40th birthday helium balloon, but it also boasts party poppers, and a single bottle of Moet & Chandon Brut Imperial Champagne, as well as a single birthday Champagne flute with which to enjoy it with. Easy to customise with a truly personal message directly from you that is included along with the box upon delivery, this remarkable gift box makes a great birthday present for anyone in your life from your boss to your cousin or friend. Whether they're having a party for 1 or 100, this extraordinary gift will assure their day is unforgettable.
---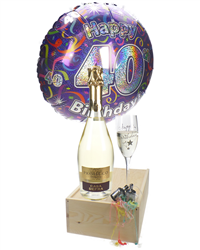 40th Birthday Prosecco Gift
Sending your sincere happy birthday wishes to someone you care for has just gotten just as easy as it can possibly get. Easy to personalise with a message from you and presented in a high-quality wooden gift box that is lined with wood wool to assure it arrives in perfect condition, this 40th Birthday Prosecco and Flute Gift Box is made to catch attention no matter how impressive the birthday party it's delivered to maybe. A fun way to celebrate such a momentous milestone in someone's life, this gift box makes an entertaining addition to any 40th birthday party and will bring a smile to anyone's face.
---
Another great Champagne 40th birthday gift to send would be a magnum. Magnums of Champagne are definitely for special occasions such as this – who knows you may even want to send a larger bottle format such as a Jeroboam!
If the person you are sending this wonderful 40th birthday gift too is not a huge fan of Champagne, then why not send them a forty-year bottle of Port, this is a fantastic tasting drink from the renowned producer Taylors and sets the scene with the large '40 year old' emblazoned across the front of it. Port is one of the growing drink sectors and is now enjoyed by both men and women alike.
Why not send a bottle of wine, we have a great selection suitable for just such a special occasion, and you can send just the wine on its own or send it with some great tasting Belgian chocolates or for those with a more savoury tooth why not send a bottle of wine with Pate and biscuits.
We have a great choice available in either red or white wines or as it's a 40th birthday gift, why not send a mixture of wines.
---
How to Send a Birthday Gift to Friends and Family in the UK
Our selection of birthday gifts are sure to please anyone who enjoys a drink! We have gifts for wine lovers, prosecco for her, scotch whisky for him, port for grandad, baileys for grandma, gin for mum or dad, brothers, sisters and friends.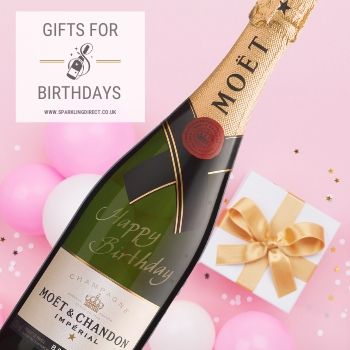 Is Champagne a Good Birthday Gift?
Champagne is more than just a good birthday gift, it's a great gift for someone who loves bubbly. A bottle of fizz is always a great way to celebrate and will always be appreciated by your friends and family.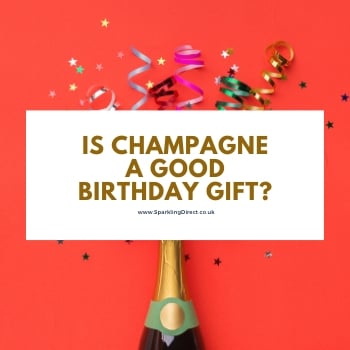 Birthday Champagne and Balloon Delivery
Sending a birthday gift to friends and family in the UK is a thoughtful way to show them just how much you care—delivered on the day of your choice or next day if you are shopping for a last-minute gift.