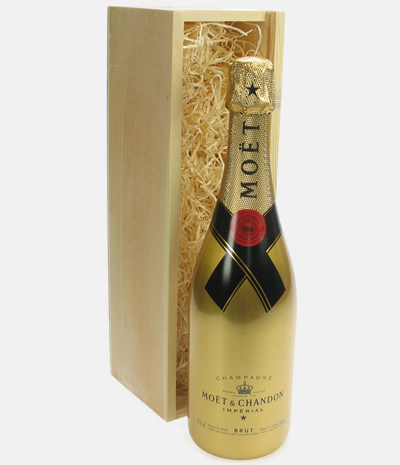 For many years Champagne has been linked to success and winning. it is seen as a product of wealth and doing well and based on that
history many of the Champagne brands have colour coded their product with the ultimate winning colour – Gold.
Moet and Chandon have recently designed a bottle sleeve for their Imperial Brut Champagne and branded it as Moet Golden. This was extremely popular in 2012 with people celebrating the Olympics. In fact Moet themselves supplied many bottles of Moet Golden to the Olympic authorities, which were then given away to Gold medal winners.
Many of the more high profile athletes were pictured drinking their bottle out and about around London. Moet produce their golden
Champagne in three bottle sizes, regular 75cl, a magnum and the largest currently available Golden is the Jeroboam. We are not sure for how long Moet will produce the Gold sleeve so it is currently marked up as a limited edition but looks great and makes a fantastic gift.
Armand de Brignac also produces a Gold covered bottle and they famously gave a gold champagne Nebuchadnezzar to Usain Bolt who was having a night out at a famous London club. The retail cost of the bottle is a mere £80000!!! Armand de Brignac who are also known as Ace of Spades produce bottles in Silver too, however, they are mainly known for the golden bottle. The Gold is available all the way from 75cl through to a Midas, which is a 30 litre bottle.
A few Champagne producers now even make champagne, which contains edible Gold flakes in the bottle itself. Both Luxor and Sparkling Gold produce this and in both instances the Champagne is infused with 23 carat gold leaf sometimes even 24 carat. This not only looks great in the bottle but is a real talking point when its in the glass.
The idea of adding Gold to drink is not a new one – although the variety of drinks Gold can now be found in has vastly increased. It is thought that alchemists in ancient times believed that gold possessed many powers which helped anyone who drank it to have a long and prosperous life.
Take a look at these Gold Bottle Champagne Gifts