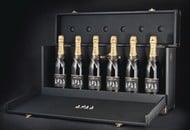 With an estimated sale price of between £5000 and £6666 per bottle, this really is an expensive Champagne. Christies auction house will be holding the auction for six bottles of the Moet & Chandon 1911 Vintage on the 21st of February 2013.
Christies description for these bottles is In 1911, as the season's grapes were being harvested, Moët & Chandon's Chef de Cave enthusiastically noted "année mémorable!" in his calendar. That year's grapes were transformed into a magnificanet champagne which has lived on to become a wine of legend, Moët & Chandon Grand Vintage 1911.
Tasting notes: First notes of pastries and candied fruits, like panettone. Darker but still sweet notes then develop (mocha, crème brulée, honey) with persistant top note of candied citrus fruits and ginger and drier hints of leather, tobacco and undergrowth.In the mouth the effervescence lessens with time; discreet, supple, smooth, always perfectly balanced and integrated. Finally airy, fleeting sensations, fresh, sweet fruit like a peach fom the vineyards. Benoit Gouez, Chef de Cave, Moët & Chandon.
Maybe a little too expensive for some of us, listed below are some of our popular Moet & Chandon Champagne gifts. They are not quite as expensive and are sure to delight the recipient.