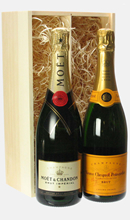 We all like to receive gifts whether it is for a personal celebration such as a birthday or Christmas present, or whether it is for an achievement such as an anniversary or graduation or whether it is simply for being appreciated, such as a thank you or a well done. The long and the short of it is that everyone loves to receive a gift of some sort no matter what the occasion or excuse. Nothing really says any of those things better than a bottle of Champers.
Champagne gifts seem to be probably one of the most versatile gift types available. It can of course be tailored to a man (a nice bottle of non-vintage) or to a woman ( a lovely bottle of Rose) you can simply send a single bottle on its own or combine it with Chocolates or Flowers to be made into something even more special or you can send multiple bottles or cases. At Sparkling Direct we have been sending out just such Champagne gifts over the past ten years and know from the varying reviews of thanks we get from happy customers, how special a bottle of Champagne can make someone feel.
With one of the largest selections in the UK we can cater for most occasions and budgets. We stock Champagne of all types, from our House brand Bourgeois Diaz, to major Grand Marque brands such as Veuve Clicquot, Moet et Chandon, Taittinger, Mumm and Laurent Perrier, in either non-vintage, vintage or rose formats. We also supply the premier brands such as Bollinger, Dom Perignon and Krug, so for whatever it is you need to say I am sure we have the bottle and information for you. For that extra special wow Champagne gift why not get a large bottle such as a Magnum, Jeroboam or larger.
As a major player in the UK champagne gift market we also get the more 'quirky' of products such as branded flute gifts, ice buckets, cooler jackets and even cufflinks or books. We see it as our place to review the products and information and package them into exquisite Champagne gifts for you to give and receive (if your lucky). On a business level our gifts can really help you to motivate your team as a reward to ensure you get that extra 5% commitment or help encourage better employment retention.
A nice bottle of something sent to an existing customer can really help them to remain loyal to you or put you back on their minds and claim that next order ahead of any competition there maybe. Sending something to a colleague thanking them for a referral is also a great idea to encourage more leads and growth as is sending something to a potential customer, just to nudge them along in your direction can also work wonders!
We aim to take the hassle out of sending gifts, especially corporate gifts, just email us the details of where you want the gift to go and we will get it processed and delivered for you. It doesn't matter how many gifts you need to send we will delver from 1 to any number you need. Here at Sparkling Direct we accept all forms of card payments, paypal and bacs
All in all Champagne gifts say so much to so many they make an ideal gift that can be truly appreciated and if you are lucky they may even share it with you. So go on and make some ones day today.