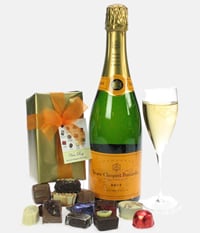 We have just updated our luxury chocolate gifts and they now taste and look even better than before. What's more you now get more chocolates too! Enjoy a glass of great tasting chilled Champagne together with some luxurious Belgian chocolates presented in a ballotin exquisitely wrapped just for you. This truly indulgent gift is great to send to anyone all year round, whatever the occasion.
The selection of Chocolates now incorporate Milk chocolate, white chocolate and Dark chocolate which are all exceedingly moorish, so we have increased the amount you get from 180g to 300g spread over a multi-layered gift box.
The gift comes in one of our wooden gift boxes filled with sizzle paper ensuring the contents arrive in pristine condition.
Make giving a gift a real 'Treat'
Champagne and Chocolates | Wine and Chocolates | Whisky and Chocolates