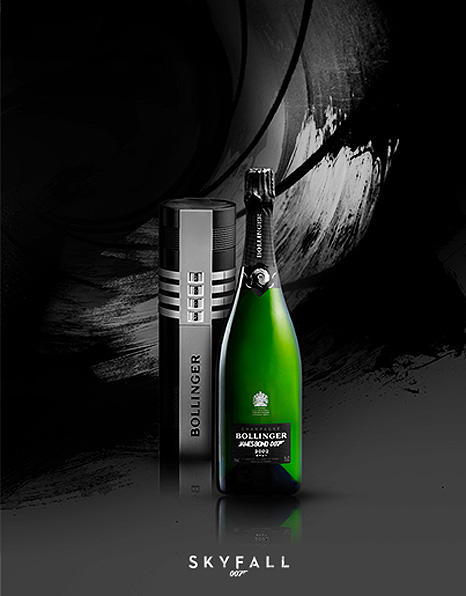 With the release of the new James Bond film, 'Skyfall' imminent, Bollinger Champagne are continuing their allegiance with the film series and have produced perhaps their best ever piece of packaging. Produced as a limited edition you can now purchase actual James Bond branded champagne.
Once again in the film 007 drinks Bollinger Grande Annee, this time the vintage is 2002, however, the clever marketing people at the house of Bollinger have decided to label the bottle Bollinger James Bond 002. Add to that the quirky box which is designed around the style of 007's Walther PPK gun silencer with the handgrip's guilloche pattern on the box, this is also repeated on the bottle's label and cap and you have a must have for any fan of perhaps the most famous film series of them all, which has spanned 50 years – this year.
In order to get the Champagne out of the box, you have to enter the correct 3 digit code – yes you guessed it its the number 007,then push down on the infamous gun symbol and twist. Hey presto you can now consume your James Bond Champagne or just look at its elegance and loose yourself in the Bond lifestyle for a second.
Bollinger have been associated with the film brand on and off for the past 40 years and the drink has appeared in 13 of the 23 official films. Sean Connery's James Bond drank Bollinger in Live and Let Die back in 1973, Roger Moore then got the taste in Moonraker when he drank Bollinger RD 1969. He kept with the same tipple in Octopussy in 1983 and A View To A Kill in 1985. When Timothy Dalton took over the role he too drank Bollinger Rd in both his films The Living Daylights and Licence To Kill.
The James bond film series then took a break for legal reasons for six years but when it came back Pierce Brosnan kept with 007's taste for Bollinger, this time preferring La Grande Annee, which the secret agent has stuck with ever since in Goldeneye 1995, Tomorrow Never Dies 1997, The World Is Not Enough 1999, Die Another Day 2002, Casino Royale 2006, Quantum Of Solace 2008 and now Skyfall which is released on October 26th 2012. Although the association dates back to 1973, it is only for the last two Bond films (Quantum and Skyfall) that Bollinger have produced something special to promote this proud affiliation.
Bollinger La Grande Annee 1999, which was the preferred Champers of 007 in Quantum came in a silver bullet styled presentation box but was far more limited. This time around whilst there is a larger supply of 002 for 007 I personally think it is fantastic and although priced at £125 delivered, think it will be a very very popular gift.
>> Send a bottle of James Bond Bollinger Champagne as a Gift <<
So how does the Champagne taste, well as you would expect from Bollinger it is exceptional and has those distinct fine lemony golden tones, the nose is of sweet apples mixed with citrus and a small hint of herb. On the tongue it has that gorgeous creamy texture we have all come to love from La Grande Annee and overall is a fantastic drink to be savored – Lucky Mr James Bond.