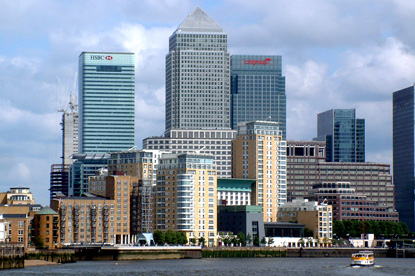 Canary Wharf is a thriving commercial district in the East of London, which is home to many of the UK's largest financial institutions. Around 93000 people commute and work there making it larger than such places as Bath, Maidenhead, Basingstoke or Halifax.
Canary Wharf as we know it now began in the late eighties, with the first building – One Canada Square being finished in 1991. Canada Square being so called due to the fact that the main company behind the project was Canadian.
One Canada Square was the tallest building in the UK up until recently and is the iconic skyscraper with the pointed top. In fact Canary Wharf has 5 of the UKs tallest buildings with a couple more in the planning stages. Canary Wharf consists of over 14 000 000sq feet of office, retail and residential space.
Most of the business undertaken in Canary wharf is financial with such companies as Barclays, HSBC, Citigroup, Credit Suisse and KPMG all having their main offices there. As you can imagine tall buildings in this sector mean that many of the people who live and work there also live the high life!
Many of the bars and retail outlets take advantage of this by supplying some of the most expensive Champagne and wines at over inflated prices. It doesn't have to be this way as we deliver Champagne to Canary Wharf. Champagne delivery to Canary wharf is nothing special to us as we do this most days. Simply order your gift online and we will deliver to wherever it needs to go.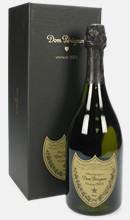 We stock over 1000 different gift combinations of Champagnes, Wines, Spirits, Flowers and hampers with specific gifts for such occasions as Birthdays, weddings, anniversaries, retirements, engagements and new births. So no matter what you are looking for we can supply and deliver it all from the safety of your own desk.
Take a look and browse the website to see that we carry a far bigger selection than regular retailers and delivery is Free. For champagne delivery Canary Wharf we can deliver anything from one gift to simply hundreds so when a deal has gone well and the boss asks to get all the team gifts we will organize and deliver them all for you through one email or phone call to us.
From Veuve Clicquot, Moet et Chandon, Bollinger, Dom Perignon, Krug, Cloudy Bay, Glenmorangie, Grey Goose, Bombay Saphire or Hennessy we will deliver. Champagne delivery to Canary Wharf equals SparklingDirect!
>> Post a bottle of Champagne to Canary Wharf in London
Post codes covering Canary Wharf and surrounding areas are E14 and SE16
Areas in SE16:
Bermondsey, Greater London
Canary Wharf, Greater London
Docklands, Greater London
Rotherhithe, Greater London
Surrey Quays, Greater London
Areas in E14:
All Saints, Greater London
Blackwall, Greater London
Canary Wharf, Greater London
Coldharbour, Greater London
Cubitt Town, Greater London
East India, Greater London
East India Dock Road, Greater London
Heron Quays, Greater London
Island Gardens, Greater London
Limehouse, Greater London
London Arena, Greater London
Millwall, Greater London
Mudchute, Greater London
Poplar, Greater London
South Quay, Greater London
West India Quay, Greater London
Westferry, Greater London