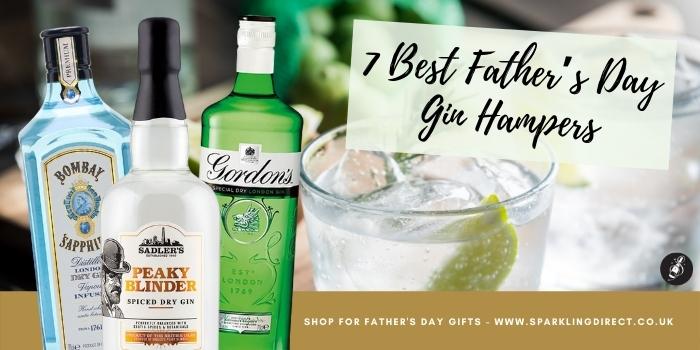 Which Gin hamper makes the perfect Father's Day gift? With so many choices, it's hard to know which one to pick. So here's what we think.
A single bottle of Gin paired with chocolates, tonic water or gourmet food makes the perfect Gin hamper. From Tanqueray and Gordons to Bombay Sapphire and Hendricks Gin, these seven gift sets include the perfect range to choose from. So no matter his preference, you can send the perfect Gin gift.
---
Bombay Sapphire Gin And Tonic Gift Set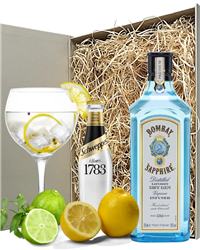 The perfect gift set for allowing any recipient to easily create a truly delicious gin and tonic to enjoy; this Bombay Sapphire Gin and Tonic Gift Set makes a one-of-a-kind gift ideal for presenting to anyone with an appreciation for gin and the flavours it provides. Presented in a sleek and durable black gift box and easy to personalize with a message from you if desired, this simply amazing gift set makes a wonderful addition to any event or occasion from a birthday to a baby shower. Complete with a 70cl single bottle of Bombay Sapphire London Dry Gin, a bottle of Schweppes 1783 tonic water as well as a lemon and a lime; every single inch of this exclusively crafted gift set is certain to satisfy any recipient.
---
Hendricks Gin Hamper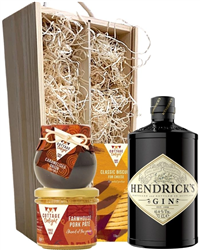 A gift box that offers so much more than just a simple bottle of spirits, this Hendricks Gin and Pate Gift Box provides the recipient with a drink they truly enjoy as well as a flavourful snack anyone can fully appreciate. Presented in a sleek wooden gift box and lined with wool for protection during delivery, this gift set also includes a single bottle of Hendricks Gin, a jar of tasty pickles, a 150g package of Oval Alberts Savory Biscuits and Cottage Delight Farmhouse Pate with Pork. Easy to customise with a personal message as well, this gift box makes an amazing gift to send to any birthday party or wedding celebration.
---
Gordons Gin Twin Gift Set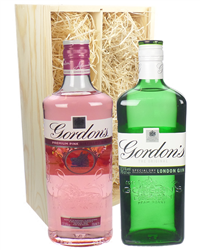 An amazing gift option for any gin-lover no matter the occasion to choose to send it for. Featuring a bottle of Gordon's Special Dry London Gin as well as a bottle of Gordon's Pink Gin included along with it, from the inside out this truly remarkable gift box boasts everything you've been searching for in a truly unique present option that will stand out from any other gift the intended recipient receives. Delivered in a high-quality wooden box and complete with a personal message from you if desired, this Gordons Gin Twin Gift Set makes an elegant gift to send to any birthday party, housewarming party, retirement celebration or simple family get-together for everyone to share and enjoy.
---
Peaky Blinder Spiced Gin And Chocolates Gift Set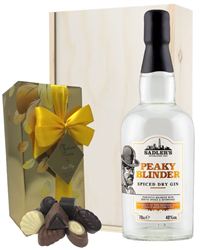 Created to provide a bold, punchy flavour, you simply will not get from any other bottle of gin on the market. Every inch of this truly magnificent gift set is designed to offer unmatchable taste from the first drop down the very last. Complete with a single bottle of Sadler's Peaky Blinder Spiced Dry Gin as well as a 250g box of assorted Belgian chocolates, this uniquely flavorful gift box makes a great gift for literally any occasion no matter how casual or formal it may be. Delivered in a solid wooden gift box and boasting a bottle of gin with flavours such as ginger and nine other botanicals as well, this Peaky Blinder Spiced Gin and Chocolates Gift Set.
---
Plymouth Gin And Tonic Gift Set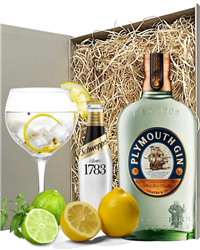 The perfect way to send an amazing glass of gin and tonic anyone can enjoy; this Plymouth Gin and Tonic Gift Set provides everything needed to sip and savour a remarkably classic drink blend from beginning to end. Delivered in a sturdy wooden gift box and lined with wood wool for secure delivery anywhere desired, this amazing gift set can also include a personalized message from you along with it if you choose. Complete with a single bottle of Plymouth Gin, a bottle of Schweppes 1783 Tonic Water as well as a lemon and a lime; with just the simple combination of these few ingredients, anyone that receives it is certain to savour every drop of the incredible flavours it offers.
---
Tanqueray Gin Hamper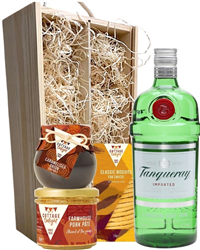 Make someone feel loved and sophisticated with this delicious Gin gift box. Perfect for any occasion, treat someone to a single bottle of Tanqueray Gin along with a range of gourmet foods. These include Cottage Delight Farmhouse Pate with Pork (90g), a jar of fabulous Pickle (115g) and some Oval Alberts Savoury Biscuits (150g). It's all presented in one of our classic wooden gift boxes and is protected with wood wool to ensure safe delivery. Complete this gift with a personalised and printed message to let your recipient know who to thank for such a wonderful gift. Next day or selected date delivery is available, so you don't have to miss out on sending this gift for any occasion.
---
Gin Gift Set – Gin and Chocolates Hamper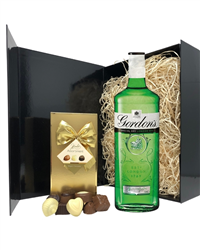 This Gin and Chocolates Hamper says nothing but sophisticated and delicious. Featuring a single bottle of Gordons London Dry Gin and a 125g box of luscious Belgian chocolates, it's perfect no matter the occasion and will please any Gin lover. Plus, the set comes in a sleek black carded gift box for that extra touch, so it looks as good as it tastes upon arrival. To ensure safe delivery, the bottle of protected with wood wool and can arrive the next day or on a date of your choice. Finish off this exclusive gift with a personal message, printed onto a keepsake card, so they know it was you that treated them to this stylish and tasteful gift.
---
---
The 5 Best Father's Day Gifts For Dads who Love Gin
Are you searching for the best gin gifts for father's day? We know it can be hard choosing something special if you have a dad who has everything or wants nothing. Don't worry, we have a selection of gifts for dads who love a glass of gin.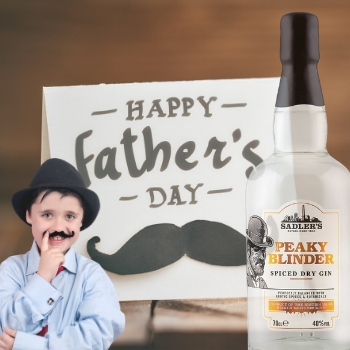 10 Best Father's Day Wine Gifts
Struggling to find the perfect wine gift for Father's Day? We've got ten best-sellers waiting for you to order! Find out what they are in this gift guide.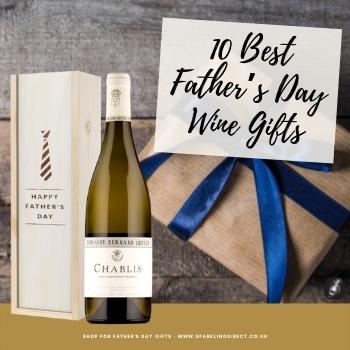 Top 10 Father's Day Whisky Hampers
Wondering what makes a good Father's Day Whisky gift? Find out our top ten choices here in this exceptional Father's Day themed gift guide.