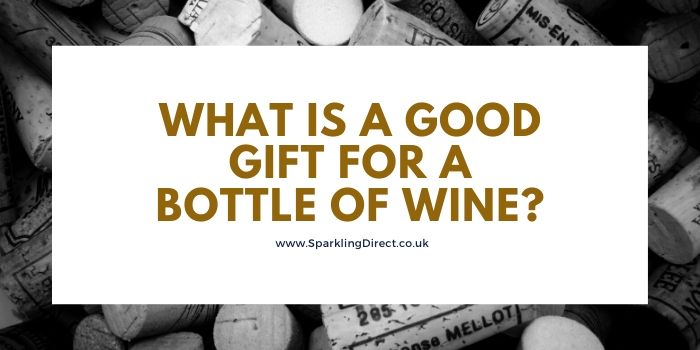 What is a good gift for a bottle of wine? We have the answer, with 8 great gift ideas here. Our pick of wine gifts include wines from the best regions around the world. These gift sets can be delivered next day in London and throughout the UK.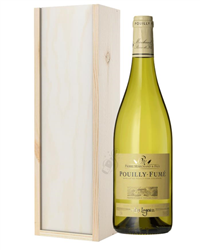 Pouilly Fume White Wine
A truly gorgeous gift set from top to bottom. Not only does this Pouilly Fume White Wine Gift Box come presented in a chic and stylish wooden box, it also includes an elegant, single bottle of Pouilly-Fume Sauvignon Blanc within it and boasts an amazing flavour that no other bottle can offer. A dry, white wine that makes a perfect pairing to a variety of different occasions and meals; this extraordinary gift box provides anyone it's sent to with an incredibly light and delectable flavour they won't want to put down until the entire bottle is gone. Easy to personalise with a message if desired, this box can be sent to any event from a housewarming party to a wedding reception and beyond.
---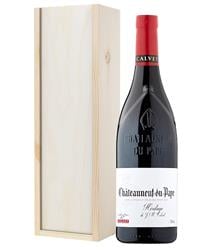 Chateauneuf Du Pape Red Wine
The perfect way to send congratulations, good luck, best wishes or even just love to someone you care for, this remarkably sophisticated Chateauneuf Du Pape Red Wine Gift Box is sure to bring a smile to the face of anyone that is lucky enough to receive it. Housed in a smooth, incredibly sturdy, and unbelievably stylish wooden box filled with wool for true protection of the bottle found within; this gift box also includes a single bottle of Val De Garrigue Chateauneuf Du Pape red wine that offers a full, delicious flavour that no other blend can hope to provide.

---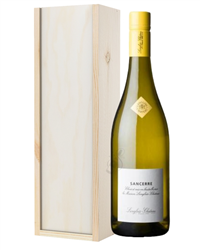 Sancerre White Wine
A stylish, sophisticated gift box that makes the perfect present for anyone that has a true appreciation for an absolutely delicious bottle of wonderful white wine. From the Langlois Chateau in the Loire valley region of France and crafted from Sauvignon Blanc grapes, this gift box features a single bottle of Sancerre White Wine within it that is certain to make anyone that receives it feel special and/or truly accomplished. Delivered to any recipient in a sleek wooden box and secure to arrive safely, this amazing gift box can also include a personlised message that makes this present as meaningful as it is flavourful.
---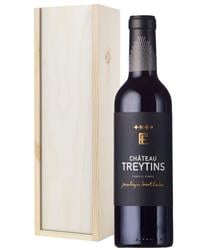 French Bordeaux Red Wine
A full, fresh-tasting red wine that captures your heart from the very first sip; boasting a strong nose of red fruits and predominantly created from hand-picked Merlot grapes, the single bottle of Chateau Treytins French Bordeaux Red Wine contained within this gift box is truly as tasty as a bottle of wine can get. Easy to personalise with a message straight from your soul, this French Bordeaux Red Wine Gift Box makes a great gift to send for any special event or occasion that comes up on your calendar. From the Bordeaux region of France, this gift box offers everything you need to provide someone you care for with an extra special surprise to enjoy.

---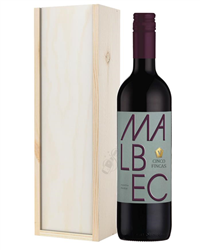 Argentinian Malbec Red Wine
Ideal for delivery to anyone in your life that could use a little something special, this lovely Argentinian Malbec Red Wine Gift Box makes the perfect gift for any occasion or event that presents itself. Presented in a simple, stylish wooden box and crafted to arrive looking it's best, this truly remarkable gift box includes a single bottle of Argentinian Malbec Red Wine from Santa Rosa Estates, from the wine region of Mendoza at the foothills of the Andes Mountains. Bold, full of flavour and absolutely delightful in every way, this box can include a personalised message along with it if desired as well.
---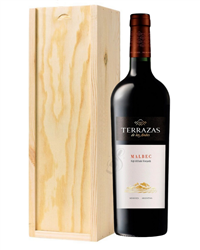 Terrazas Reserva Malbec
A delicious, flavorful gift that will be certain to fully satisfy any true wine connoisseur, this Terrazas Reserva Malbec Wine Gift Box is secured for delivery and contains a single bottle of Terrazas Reserva Malbec Wine placed within a sturdy, stylish wooden box. From High Altitude Vineyards in Mendoza, Argentina and boasting a truly stunning taste, this gift box will easily stand out from any other gift the recipient receives. A gift you can easily personalise so whoever you're sending to knows who to thank, this high-quality box is also durably lined with wool so it will make it to it's intended destination safely for use and enjoyment.

---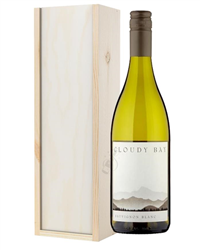 Cloudy Bay Sauvignon Blanc
A gift set that contains a single, incredibly elegant bottle of Cloudy Bay Sauvignon Blanc within it, this remarkably stylish gift is truly perfect for delivery to any occasion from a housewarming party to a birthday bash or even an engagement celebration. Also, especially wonderful when sent as a welcome to the team or congratulations gift on a job well done, this sleek and chic Cloudy Bay Sauvignon Blanc Wine Gift Box is certain to impress anyone lucky enough to receive it. Send this gift box to anyone from a teacher or tutor to a colleague or your best mate; when a stunning set like this one arrives, you can be certain it will bring a smile to anyone's face.
---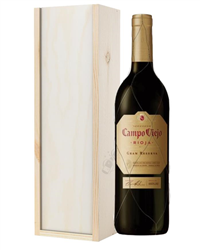 Campo Viejo Gran Reserva
Presented in a simple, unadorned wooden gift box and lined with wool to be fully secure during delivery, this Campo Viejo Gran Reserva Wine Gift Box makes the ideal gift to send to any occasion or event or to anyone that deserves a little special something to celebrate accomplishments or just a job well done. Easy to personalise with a message written by you if desired, this gift box is a stylish and versatile option to have sent to any recipient from a friend to member of your family or even a client or customer you especially enjoy working with.

---