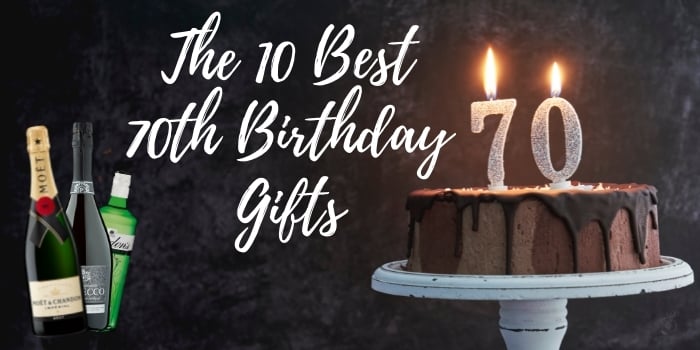 A 70th birthday is a significant milestone that needs celebrating. Whether it's for a friend or family, you need to get a gift that's extra special. So what's a good gift to get someone for their 70th birthday?
70th birthdays deserve luxury gift sets of wine, Champagne or spirits. The best gifts for a 70th are those that come with keepsakes as they become the most meaningful and sentimental over time. These ten gifts are perfect if you're looking for something unique, unusual or traditional for him or her.
---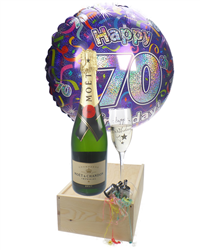 70th Birthday Champagne and Balloon Gift
A stunning 70th birthday celebration in a box; when you send one of these amazing gift boxes to someone lucky enough to reach such a momentous milestone, they are sure to be truly thankful to have received it. Easy to customise with a personal message and presented in a high-quality wooden box that assures it arrives safely to any destination required, this 70th Birthday Gift Box contains a single bottle of Moet & Chandon Imperial Brut Champagne, party poppers, a happy birthday champagne flute, and a fun and colourful 70th birthday balloon that comes inflated and ready for a good time. A wonderful addition to any 70th birthday party, whether it's big or small, classy or casual.
---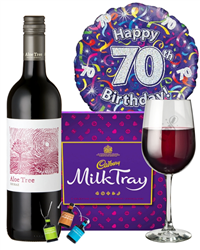 70th Birthday Red Wine And Chocolates Gift Set
A lovely, luxurious gift set that is designed to be truly savoured from start to finish; when you send one of these bold and high-quality presents to someone turning 70, they're certain to appreciate the sentiment, and the flavour, this gift box provides. Easy to personalise with a custom message from you as well if desired, this wonderful 70th Birthday Red Wine and Chocolates Gift Set includes a bottle of Shiraz, a 200g box of milk chocolates, and a 70th birthday balloon that pops out upon opening for a fun surprise as well. The perfect gift for your parent, grandparent, co-worker, teacher or anyone else in your life luck enough to reach such a meaningful, personal milestone.
---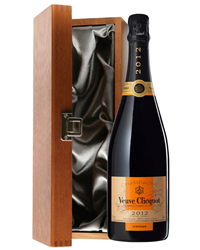 Veuve Clicquot Vintage Champagne Luxury Gift
A chic and luxurious gift set that offers nothing but true elegance and sophistication from top to bottom. Containing a single bottle of Veuve Clicquot Vintage Champagne within it, this Veuve Clicquot Vintage Luxury Gift Box boasts a stunning appearance, and a full, delicious flavour that other gift boxes simply cannot match. Presented in a lovely wooden gift box that is lined with gorgeous grey silk, this gift box is meant to securely withstand delivery and makes a wonderful present to have delivered for any occasion from a retirement party to the celebration of a new life at an especially chic baby shower.
---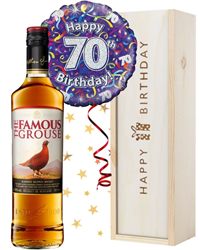 70th Birthday Scotch Whisky and Balloon Gift
Perfect in flavour and perfect in style, this is the ultimate gift for a Whisky lover's 70th birthday. Send someone this classic set containing one single bottle of smooth Famous Grouse Whisky to enjoy on the occasion and add to their drinks selection. It is presented in one of our 'Happy Birthday' gift boxes and includes a fully-inflated, fun 70th Birthday balloon to pop out upon opening. Whether you can be there on the day or not, you can also include a personalised message to express your birthday wishes. Plus, select a date for delivery or have it at their door the next day. There's no 70th birthday Whisky gift better than this one.
---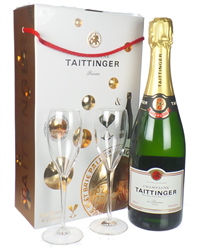 Taittinger Champagne Branded Flute Set
A gorgeous way to send a celebration in a box; this Taittinger Champagne Branded Flute Set includes not only a single bottle of Taittinger Champagne within it, but also includes two high-quality branded Taittinger Champagne flutes as well. Easy to personalise with a message straight from you if desired, this lovely gift set makes the perfect present to send to a variety of different special occasion from an engagement or anniversary party to a just because gift for that special someone in your life. Delivered in a fashionable, branded Taittinger box, this gift set boasts an appearance that is easily as chic as its contents.
---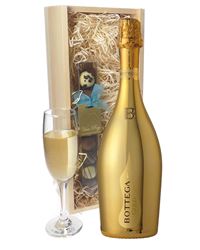 Botegga Gold Prosecco and Chocolates Gift
The Botegga Gold Prosecco comes in a luxurious gold bottle that certainly makes a statement. Perfect for sending staff, siblings or further afield friends to help them call in the new year with a bang. Combined with some delicious chocolate truffles, this gift set is ideal for the total Queen in your life. You can add your personalised message to the gift, and choose a specific date to have it delivered, we'll take care of the rest. Each gift set is beautifully presented in a lovely wooden gift box and packed with wood wool so you know it'll arrive safe and secure.
---
70th Birthday Irish Whiskey and Balloon Gift
If you're looking for something classic and unique for a Whiskey drinker's 70th, this is it. Treat someone to a single bottle of perfected Jameson Irish Whiskey to sip down whilst celebrating their milestone. Plus, nothing says special birthday more than a fully-inflated 70th Birthday balloon to surprise the recipient upon opening. Presented in one of our 'Happy Birthday' wooden gift boxes, this is sure to make them smile. Complete the gift with a personalised message to let them know you're celebrating with them and sign it from the whole family. Get it delivered on a day of your choice or even the next day.
---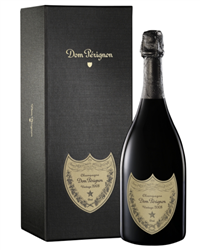 Dom Perignon Champagne Gift Box
A truly luxurious gift box that includes a bottle of one of the most well-known champagne's in the world, this incredibly elegant Dom Perignon Champagne Gift Box makes the perfect present for anyone that deserves a special congratulations of any kind. Delivered in its own sleek, black Dom Perignon branded box and filled with a bottle of the current vintage aged from 2010, from top to bottom this amazing gift box offers an amazingly delicious gift nearly anyone can enjoy. Simply add a personalised message for complete customization and this remarkable gift will be on its way to that special someone right away.
---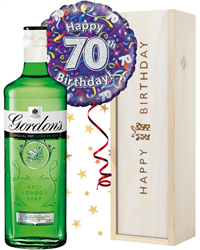 70th Birthday Gin and Balloon Gift
Help someone celebrate their 70th birthday in style with this classic Gin birthday gift set. Presented in one of our 'Happy Birthday' gift boxes, treat someone to a single bottle of classic Gordon's Special Dry Gin. Whether for Gin and Tonics or cocktails, bring a bit of class into the birthday celebratory drinks. Protected with wood wool, have it delivered either the next day or on a date of your choice so you don't miss the occasion. Delivery is available anywhere in the UK. Plus, include a heartfelt personalised message to make the milestone extra special. Every 70th birthday deserves a magnificent gift set like this one.
---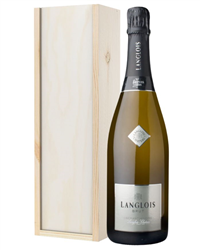 Langlois Brut Sparkling Wine Magnum
The ideal addition to any large event from a wedding or engagement party to a baby shower and beyond; from the moment this Langlois Brut Sparkling Wine Magnum Gift Box arrives at its intended destination the recipients will be more than happy to enjoy glass after glass until it is finally gone. Delivered in a sturdy wooden box lined with wood wool to make certain it's delivered looking its best, this sleek and gorgeous gift set boasts nothing but bold and delicious flavours unlike any other. Complete with a magnum-sized bottle of Langlois-Chateau Cremant de Loire Brut Sparkling Wine within it and sure to satisfy anyone that receives it, no matter how casual or in vogue their tastes may be.
---
---
10 Last-Minute Birthday Gifts For Grandad
It's easy to leave birthday shopping for Grandad to the last minute. You might not know what to get and be worried about it arriving in time.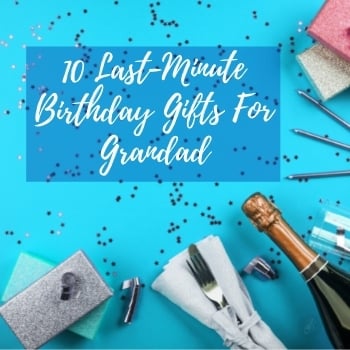 10 Last-minute Birthday Gifts for Grandma
Forgotten to buy Grandma's birthday gift? It's easy to get caught up and leave shopping until the last minute, which is why we've got you covered with these last-minute gift ideas.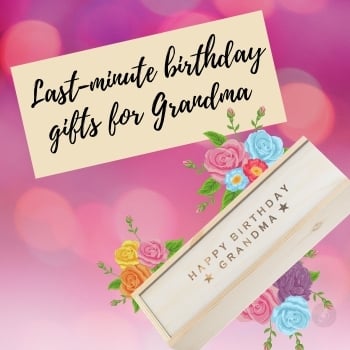 5 Best Birthday Gifts For Gin Lovers
Are you looking for a really unique birthday gift for a gin-loving friend? Look no further, our guide below lists 5 of our most popular gin presents.