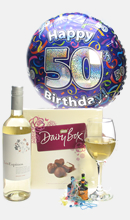 Of all the milestone ages a 50th birthday is probably the big one. Half a century, five whole decades, the big five o, everyone has to celebrate a 50th birthday! To be celebrating a 50th birthday this year, means you were born in 1963, just think England still hadn't even won the world cup!!. In 1963 the Beatles were number one with Please Please me, Everton won Division 1, the great train robbery took place, Doctor Who had its first ever episode and Vauxhall cars released the Viva.
Famous people celebrating a 50th birthday this year include some pretty big names, Brad Pitt, Johnny Depp, Mike Myers, Helen Hunt and George Michael
As a 50th birthday is so important, it is even more crucial to make sure you get the right 50th birthday gift. It is a difficult one to buy
for as most people will tend to have a lot of the things they want. In theory it is an affluent time in your life, so sending someone a bottle of Champagne or nice wine makes the perfect choice for a 50th birthday gift.
Our team have spent time and effort selecting our 50th birthday gifts and we are always on the look out for new exciting combinations of gifts. We hope we are able to offer the perfect choice for you. Our prices are very important and we have 50th birthday gifts ranging from under £30 rising to, well whatever you want to really. Don't forget, it doesn't matter where your friend lives as we deliver across the whole of the UK and the delivery cost is included in the cost of the gift.
50th Birthday Gifts under £30
We can supply a couple of 50th birthday gifts that fall into this range. We have a bottle of wine together with a Happy 50th bottle stopper, which is straight to the point and rubs it in quite nicely! We also have a bottle of wine, a balloon and a box of chocolates. You can choose to send a bottle of Cabernet Sauvignon for red wine drinkers or a bottle of Sauvignon Blanc for fans of white wine. Both come with a selection of Chocolates and an inflated Happy 50th Birthday balloon.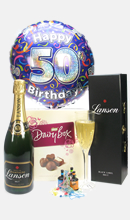 50th Birthday Gifts under £50
Looking to send that little bit more, don't worry for people with a slightly bigger budget we have some lovely 50th birthday gifts to choose from. We offer a gift which contains a choice of either our house Champagne brand or a high street name such as Lanson or Moet and Chandon. Like the lower priced 50th birthday gifts we offer 50th birthday Champagne, chocolates and 50th birthday balloon gift, or Champagne, balloon and 50th birthday flute.
As a 50th birthday is such a big one, why not send a larger bottle. We sell all the major bottle sizes and a Magnum or the larger Jeroboam make excellent choices. Prices start at £57 for a sparkling wine magnum and go up to £250 for a Jeroboam.
What ever you decide make sure you push the boat out for a friends 50th birthday gift, as it only happens once.