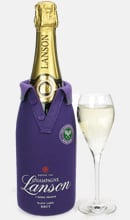 For the past 25 years Lanson Champagne has been the Champagne partner at the Wimbledon Championships. To celebrate this longstanding association, Lanson have released some very nice limited edition bottle covers and they are ACE!
This year the Wimbledon Tennis Championships run from 24th June until the 7th July and once again they are a huge part of the sporting calendar here in the UK, no doubt for two weeks this year we will all dream of what could have been if we had ever picked up a Tennis racquet, get behind our number one or favourite player and generally talk the talk. Naturally it will rain for near enough the whole two weeks and there will be arguments in front of the telly as to who wants to watch something other than the tennis!
The limited edition Lanson Champagne / Wimbledon offerings this year are quite exquisite. As in previous years there is a sleeve which holds the bottle and will also keep it chilled for up to two hours, however, rather than this simply being a plain neoprene jacket in either black or in the livery of Wimbledon's Championship colours of purple, the sleeve has been designed to look like a polo shirt. There is a collar around the neck of the bottle and two buttons adorn the front.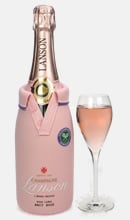 The fabric is a neoprene base but also has a cotton top layer. There are of course both the Lanson Champagne and the Wimbledon Championship logos across the front and down the back there is a zip to secure the bottle in the jacket. The zip pull is designed as a tennis ball.
Unlike in previous years, Lanson have taken the Wimbledon theme across more of their range and so you can now get the Wimbledon
jacket in the purple colour for the Lanson Black Label, in the white for Lanson Ivory Label and in pink for the Lanson Rose Label. We have in stock both the Black Label and the Rose and these are available individually or as a mixed double twin set.
We don't need an umpire to say how good these are, Lanson have definitely served up a treat with these and I am sure it will be game, set and match as they are sure to sell out quickly.