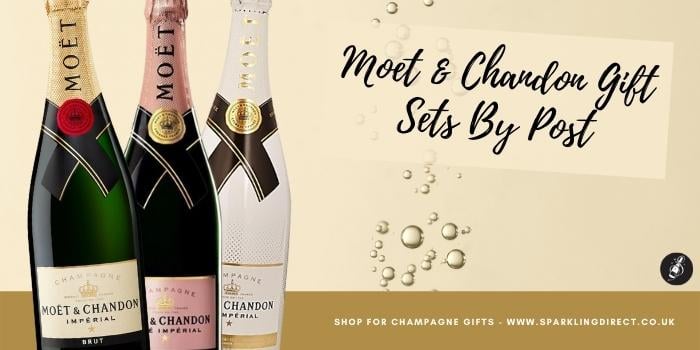 Moet & Chandon is a leading Champagne House. Great for many different occasions, their range of Champagnes is outstanding. But which one makes a good gift?
Vintage, Brut and Rose all make phenomenal gifts for any occasion or recipient. However, if you're looking for something extra special, their Ice Imperial Champagne is sure to make an entrance. Take a look at these seven Moet & Chandon gifts. It's the perfect gift guide if you're unsure which one to send.
---
Moet Champagne Gift Box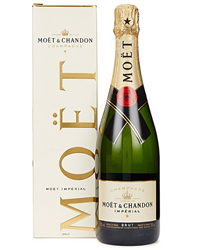 A uniquely delicious way to present a special gift to a special someone; every single sip of the Moet Chandon Imperial Champagne contained within this Moet Champagne Gift Box will be absolutely certain to offer complete satisfaction to anyone, and everyone, enjoying it. Supplied in its own Moet carded box and presented with a personalised gift card filled out by the sender, this truly incredible gift box makes the perfect gift for any occasion from a wedding to a simple congratulations for a job well done at work. Sending something special to someone you care for has never been easier than this.
---
Pink Champagne Birthday Gift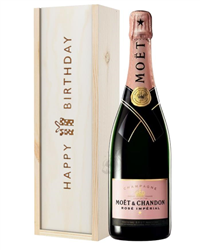 An exclusively designed, high-quality gift box that is sure to turn any recipients birthday from simply ordinary to truly extraordinary. From the moment this Moet et Chandon NV Rose Champagne Birthday Gift Box arrives to its destination, whoever receives it will be ready to pop the cork and savour every glass it provides. Delivered in a sturdy wooden box with the words 'Happy Birthday' stamped perfectly on top of the box itself, whether you send this box to your best friends birthday party or the home of a family member or colleague from work, its absolutely certain to fill any recipient with warmth and love directly from you, from start to finish.
---
Moet & Chandon Vintage Champagne Luxury Gift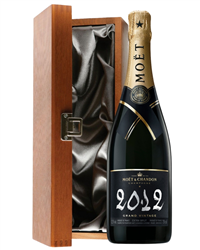 Luxurious and sophisticated, this bottle tastes as good as it looks. Treat someone to this outstanding single bottle of Moet & Chandon Vintage Champagne and help them celebrate in style. Complete with a luxurious stained wooden box with traditional joints and clasps, this is a gift for exceptional occasions and is sure to show someone how much you care. Grey silk lines the inside of the box, protecting and presenting the bottle in the best way possible. Complete the order with a personalised message and have it delivered the next day or on a day of your choice.
---
Moet & Chandon Champagne Magnum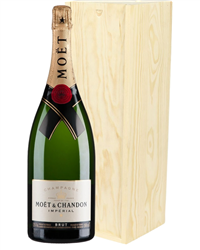 A gift box that provides the recipient with a bit more champagne to enjoy than a traditionally sized bottle; this especially voluminous Moet & Chandon Champagne Magnum Gift Box offers an especially large volume of 150cl to enjoy and a stylish appearance that offers a sturdy method of delivery as well. The perfect present for anyone with a little extra personalisation added, this lovely gift box can come with a personlised message along with it if desired. Great as an engagement, wedding, retirement or even a thank you or simple congratulations for any important event that comes up in their lives.
---
Moet Ice Imperial Champagne Congratulations Gift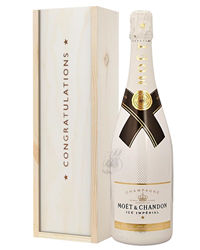 Complete with a remarkably classy bottle of Moet Ice Imperial Champagne and easy to personalise with a message from you as well, every inch of this sleek and exclusively crafted gift box provides the perfect way to truly congratulate anyone, no matter they've done or accomplished in order to earn it. A great gift option for presenting as a graduation present, a wedding gift or to celebrate the birth of a brand-new baby; this Moet Ice Imperial Champagne Congratulations Gift Box boasts unmatchable style and extraordinary flavour that you simply won't get from any other present you could send. The bottle of demi-sec champagne within this amazing gift set is specifically created to be enjoyed over ice.
---
Moet And Moet Rose Two Bottle Champagne Gift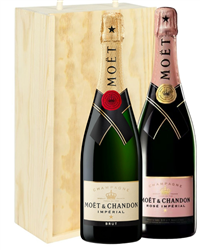 An incredible gift that anyone would be truly thrilled to receive, this Moet and Moet Rose Two Bottle Champagne Gift Box is presented in a sturdy and stylish wooden box for delivery and is certain to arrive securely to any location it's sent. Complete with a single bottle of Moet & Chandon Imperial NV Champagne included as well as a single bottle of Moet & Chandon Rose Imperial NV Champagne within it, this remarkably sophisticated gift box will bring instant elegance to any event it's presented at. Easy to personalise with a message as well if desired, this set makes an amazing gift that any recipient will be sure to fully savor.
---
Moet & Chandon Champagne & Chocolates Gift Box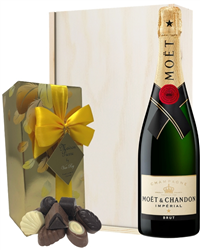 A tasty gift box that is sure to satisfy any recipient lucky enough to receive it; this Moet & Chandon Champagne & Belgian Chocolates Gift Box boasts an array of delicious flavours that no one could pass up. Complete with a single 75cl bottle of Moet & Chandon Imperial Champagne as well as a box of 250g of delectable Belgian chocolate, this gift box features a truly classy and elegant look and an incredible taste that no other combination of flavours can hope to match. Presented in a truly lovely box and securely packed for delivery to any recipient desired, this gift box can also include a personalised message along with it that comes printed on a plastic card and enclosed with the gift.
---
---
Is Veuve Clicquot Champagne A Good Gift?
Everyone knows that Veuve Clicquot is an exceptional Champagne. But when it comes to special occasions, does it make a good gift?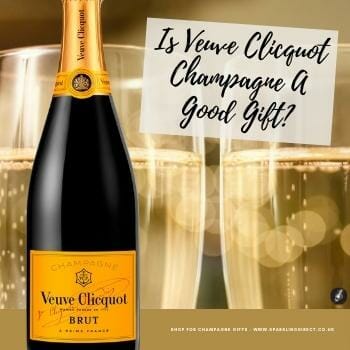 5 Moet & Chandon Birthday Gifts
If you're looking for the perfect Champagne birthday gift, look no further. Send a Bottle of Moet Champagne to Say Happy Birthday & Celebrate an 18th, 21st, 30th, 40th or 50th in style.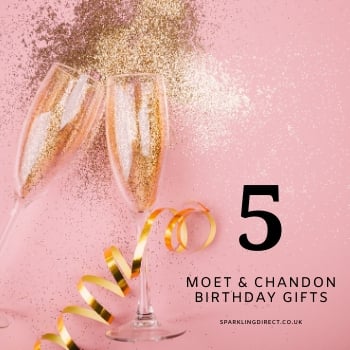 7 Best Champagne Gifts For Her
Everyone knows that Champagne is a girl's best friend. But which Champagne makes the best gift? Any one of these seven gift sets will make the perfect gift no matter the occasion.