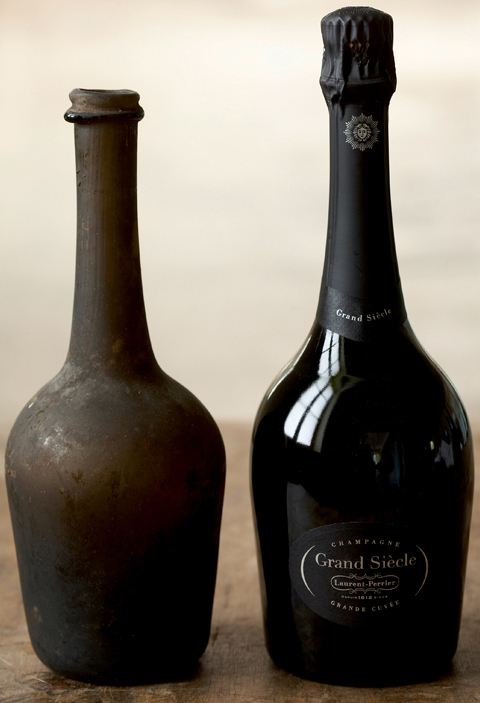 Grand Siècle expresses the quintessence of champagne and French refinement
Launched in 1959, Grand Siècle is Laurent-Perrier's Prestige Cuvée, the prime example of the House's exacting standards and know-how. Its unique style combining finesse, power and balance is the outcome of blending the very best grapes from the most prestigious crus in wines from the best Laurent-Perrier vintage years.
The champagne cuvée par excellence, Grand Siècle is a blend of wines from three great Laurent Perrier vintage years made from the finest crus and grapes. The Grand Siècle style combines finesse, power and balance.
A majestic and refined bottle. Its singular shape is inspired by the work of the master glass-blowers of the 17th century. The curve of its shoulders is unique, as is the elegance of its slender swan's neck, and is a re-creation of the hand-blown bottles used to contain the very first champagnes at the French royal court.
Today presented in an extremely elegant gift box, Grand Siècle by Laurent Perrier is a prestigious gift, much appreciated by connoisseurs
Blending
Comprising approximately 55% Chardonnay and 45% Pinot Noir, Grand Siècle by Laurent Perrier is a blend of prestigious grands crus, all rated 100 %.
Aspect
A fine bead, giving off delicate aromas. A bright yellow colour and an extremely refined texture.
Nose
An intense, complex nose of lightly candied citrus. This is followed by notes of brioche, grilled almonds, and subtle hints of honey and gingerbread, shot through with white flowers.
Taste
A silky palate and a sensation of plenitude. With its fine minerality, a remarkable impression of freshness. Then a final note which surprises by its lingering aroma.
View our range of Laurent Perrier gifts.