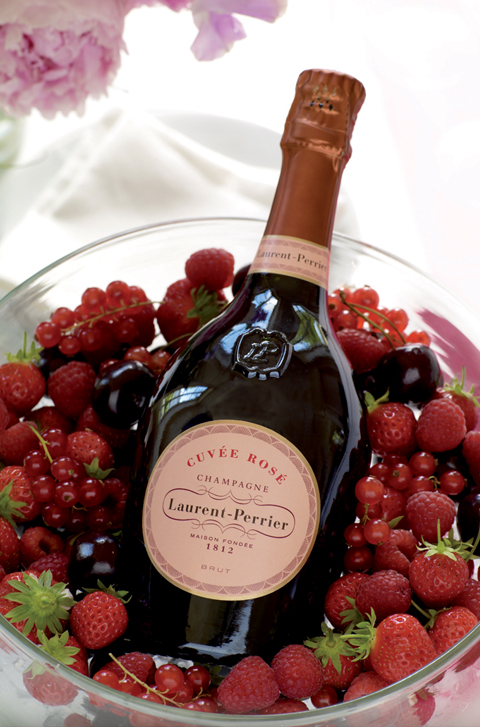 Unique in terms of its history, the way it is made, and the design of its bottle.
Prior to 1968, making non-vintage rosé champagne was virtually unthinkable. It was in the midst of a cultural revolution that the visionary Bernard de Nonancourt gave it its credentials. This daring wine combines real structure with freshness and a soft, vinous character.
In its elegant bottle inspired by the times of French King Henri IV, Cuvée Rosé Laurent-Perrier soon made a name for itself worldwide.
These days, Cuvée Rosé Laurent-Perrier is sold in an extremely elegant presentation case reminiscent of the delicate colour of the wine and its Pinot Noir grapes. It is a highly-valued and much sought-after gift, the world over.
Aspect
A fine bead and an elegant colour. Cuvée Rosé Laurent-Perrier's colour evolves gently from a pretty raspberry tint to a hint of salmon. In this colour range, the brightest is a pink with subtle shades of melon and raspberry. It owes it quaint name Cuisse de nymphe émue (hot pink, in English), to a rose bush. The bead is so fine that it seems to dance in the glass and then on the palate.
Nose
Subtle, forthright, and very fresh on the nose. Cuvée Rosé Laurent-Perrier suggests a basketful of small berry fruits: strawberries, raspberries, blackcurrants, blackberries, redcurrants, and morello and black cherries. The overwhelming sensation is one of freshness.
Taste
Fruit dominates the palate. Cuvée Rosé Laurent-Perrier is a lively, well-rounded wine which combines structure and freshness. The forthright, slightly sharp attack is like breathing the heady aromas of a freshly-picked basket of berry fruits – a symphony of aromas with a gently-rounded, tender finish.
View our range of Laurent Perrier Rose gifts.