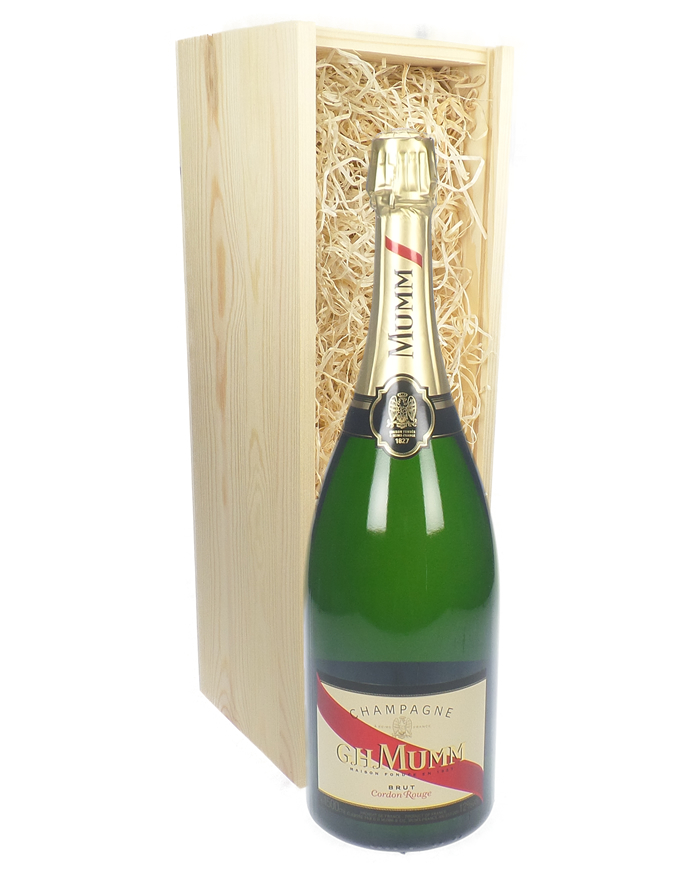 Mumm Cordon Rouge Champagne
This Champagne is a brightly sparkling, light golden yellow liquid with an abundance of fine and elegant bubbles.
The nose reveals initial aromas of ripe fresh fruit (white and yellow peaches, apricots), tropical notes (lychee and pineapple). It then opens up with the fragrance of vanilla before developing notes of milky caramel, breadcrumbs and yeast, culminating in aromas of dried fruit and honey.
An explosion of freshness in the mouth, followed by strong persistence. The complex aromas of fresh fruit and caramel perpetuate the intensity.
Ideal as an aperitif and beyond, Mumm Cordon Rouge works as well as an accompaniment to white meat, as it does to fish or fine cured meats (Italian ham, smoked duck breast).
Mumm's champagne rituals introduce 21st-century devotees to new ways of enjoying champagne. This cuvée fully expresses its aromas and structure when served at 8°C
The style of every Mumm Cordon Rouge cuvée is a constant, subtle balance of freshness and intensity
Georges Hermann Mumm is the man to whom we owe the House's iconic cuvée. In 1876, to assert the quality of its champagne, the House decided to adorn their bottles with a red silk ribbon, a reference to the Ordre de Saint Louis and to the Grand Cordon de la Légion d'Honneur.
Its success was immediate: a symbol of Maison Mumm's excellence and expertise, the Cordon Rouge cuvée henceforth became a true benchmark all over the world.
At Sparkling Direct we currently stock the following Champagne bottle sizes;