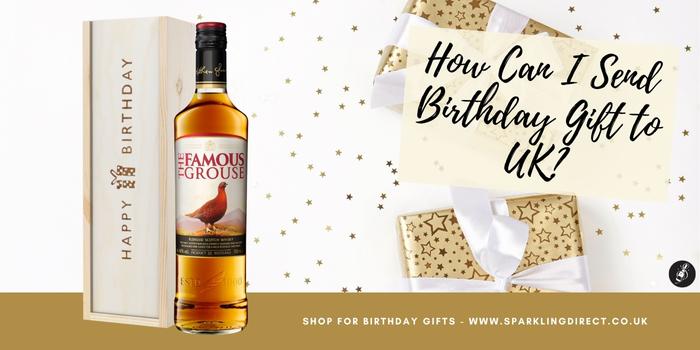 We know that you can't always be there to celebrate every birthday with the people we love. But that doesn't mean you can't always give the perfect gift. So how can you send a birthday gift to the UK?
No matter where you are in the world, you can always send the perfect birthday gift to anyone living in the UK. Whether a bottle of wine, Champagne, Whisky or Prosecco, you can have a delicious gift delivered to someone's doorstep at the click of a button. All you need to do is browse our website and pick one and we'll handle the rest!
But which one do you pick? We've selected five birthday gifts to get you started on finding the perfect choice! All of our gifts include a personalised message and delivery across the UK. So even if you can't be there, you can still give someone the best birthday yet! Take a look below to get started!
---
Champagne Birthday Gift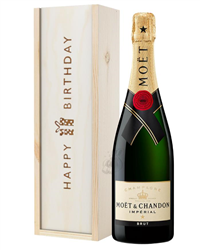 Sending heartfelt birthday wishes to someone you love has never been easier, or more elegant, than this. From the high-quality and sleek wooden gift box it comes in to the single bottle of Moet & Chandon Imperial Brut Champagne held within it, there is truly no other gift box available that will make an impression quite like this one whether the birthday celebrations are classy or casual in overall style. Easy to customise with a personal message from you if desired and boasting a simple yet chic appearance, from end to end this Moet & Chandon Champagne Birthday Gift Box features the words 'Happy Birthday' on top to assure the reason for its delivery is clear from the moment it arrives.
---
Wine Birthday Gift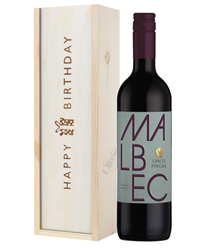 Say 'Happy Birthday' to someone you care for in a remarkably unique way when you have one of these truly elegant Argentinian Malbec Red Wine Birthday Gift Boxes delivered to celebrate the event. Produced in the Mendoza region that is located within the foothills of the Andes Mountains in Argentina, this incredible gift box boasts a single bottle of Malbec Red Wine placed inside and comes presented in a truly chic wooden box as well. Taste the delicious flavour that only a variety from Argentina can provide in every single sip of this extraordinary wine blend.
---
Prosecco and Chocolate Gift Set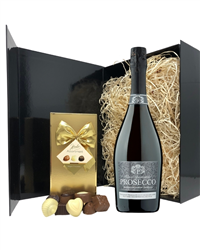 A truly delectable gift set anyone would love to receive. From the elegant wool-lined box to the remarkably delicious items placed within it, this sincerely sumptuous set is certain to assure that anyone it's sent to will fall in love with it instantly. Sophisticated in both composition and appearance, this Prosecco and Chocolate Gift Set features a single bottle of our exquisite Prosecco Spumante alongside 125 grams of luscious Belgian chocolate and comes in a sleek, black carded gift box as well; making certain this set arrives safely and looking as chic as possible. Add your own personal touch by adding a message to send along with it if desired.
---
New Zealand Wine and Chocolate Birthday Gift Box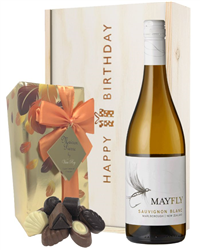 Indulge in pieces of New Zealand and Belgium with this celebratory birthday gift box. Nothing says sophisticated birthday than a single bottle of tasteful and refined Zephyr Sauvignon Blanc. Delicately paired with a box of sweet, assorted Belgian chocolates to surprise any recipient. Sent together in a wooden box with Happy Birthday printed on the lid, this gift set is perfect for any birthday occasion. Finish off the order with a personal message to send extra celebrations and get it delivered the next day anywhere in the UK.
---
Scotch Whisky Birthday Gift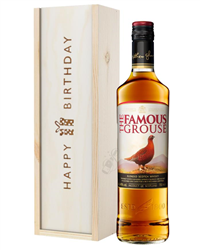 A simple way to send your truest birthday wishes to anyone in your life; complete with a single bottle of The Famous Grouse Whisky within it, this gift box boasts bold and absolute flavour throughout every sip taken from it. Presented in a sturdy wooden box with the words 'Happy Birthday' stamped beautifully on top, this remarkably chic Famous Grouse Whisky Birthday Gift Box is a versatile gift that anyone from your co-worker or customer to your parent, friend or relative will surely enjoy. Celebrate any birthday, anywhere, with a little something special when you have one of these remarkable gift boxes delivered to any type of birthday event.
---
---
5 Best Wine Birthday Gifts For Her
Trying to find the perfect wine birthday gift for a woman? Take a look at these five gift sets for inspiration and see what you think!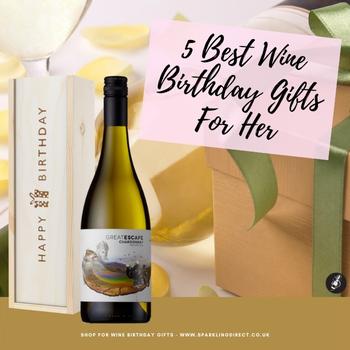 7 Best Wine Birthday Gifts For Him
Want to know what makes a good wine gift for a man's birthday? Take a look at this fantastic gift guide featuring seven exceptional gift ideas!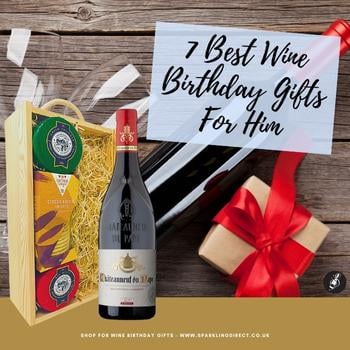 Is A Bottle Of Wine A Good Birthday Gift?
Wondering whether to send wine for someone's birthday? Find out whether it makes a good gift here in this exclusive post.