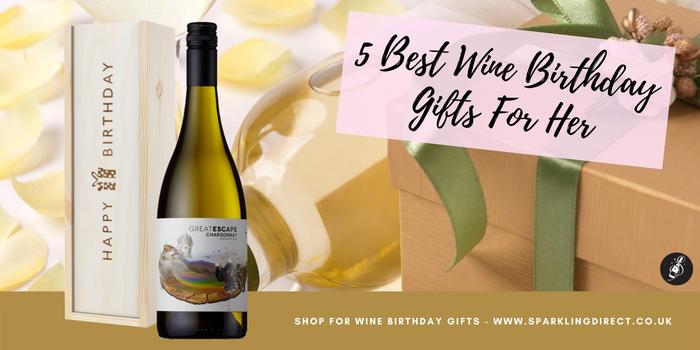 Picking a wine birthday gift for any woman in your life can be challenging. But it's not impossible. So what is a good wine gift for ladies?
A bottle of something special is a great wine gift for any woman. Whether as a hamper or a single bottle, one bottle is enough to make her happy. These five birthday wine gifts are a great place to start when looking for inspiration. So why not sweep her off her feet with the perfect wine birthday gift?
---
Red Wine and Chocolate Birthday Gift Box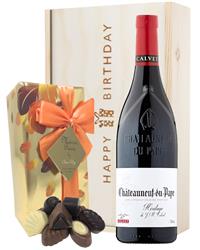 Bring a bit of France and Belgium into your birthday celebrations with a gorgeous wine and chocolate gift set. Send someone this elegant bundle, including a single bottle of luscious Chateauneuf Du Pape red wine with a box of indulgent and assorted Belgian chocolates. Presented in a wooden gift box, with Happy Birthday printed on the lid, this bundle is sure to show recipients how much you care and bring some joy to their special day. There's also the option to personalise this gift with a message to add that extra touch.
---
Rosé Wine and Balloon Birthday Gift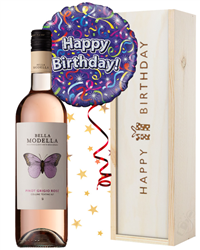 A fabulous gift box that makes the perfect birthday present for any rosé wine lover. Presented in a robust and stunning wooden gift box with the words 'Happy Birthday' printed across the top. This delicate pinot grigio rosé from Italy has deliciously strawberry laced aromas followed by a seductive palate of crisp, juicy, creamy fruit. You can also customise this gift with a thoughtful, personal message from you if desired and have it delivered to a home or work address on the date of your choice.

---
Australian Chardonnay White Wine Birthday Gift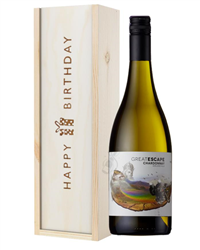 Say 'Happy Birthday' to anyone from your brother to your tutor and everyone in-between. When you have one of these truly wonderful Australian Chardonnay White Wine Birthday Wooden Gift Boxes delivered to someone you can rest assured; they will truly enjoy every sip it provides them. Securely housed within one of our solid wooden boxes with the words Happy Birthday boldly emblazoned on the top, this extraordinary gift box includes a single bottle of Great Escape Chardonnay that is produced by Thistledown Wines and is harvested from the Eden Valley of Australia. Add a personalised message to assure the recipient knows who sent it, then sit back, relax and know you chose to send the very best.
---
Red Wine And Chocolates Birthday Gift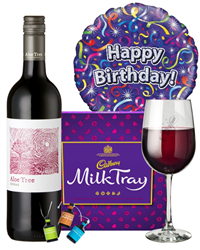 A versatile gift box that makes it easy to send birthday wishes to anyone in your life from your parent, aunt, cousin or friend to a co-worker or boss; this truly delightful Red Wine and Chocolates Birthday Gift Set provides everything needed to have a real celebration. A set that contains a single bottle of Aloe Tree Shiraz, a box of 200g of milk chocolates and a 'Happy Birthday' balloon that pops out of the box upon opening, this extraordinary gift box is absolutely certain to bring joy to anyone's special day. A great gift to send to someone you care for, no matter the distance between you.
---
Sauvignon Blanc Wine and Cheese Hamper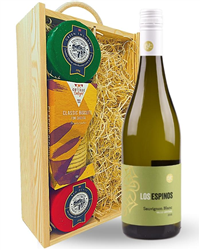 What better gift for a wine and cheese lover than this delicious hamper? Let someone taste beautiful combinations by sending them a single bottle of Los Espinos Sauvignon Blanc white wine along with a box of Cottage Delight Biscuits, Snowdonia Green Thunder Cheese and Snowdonia Red Devil Cheese. Green Thunder is a Cheddar Cheese with roasted garlic and herbs. Red Devil is a Red Leicester with Habanero chillies and peppers. It's all presented in one of our wooden gift boxes with wood wool lining for protection. You can complete this gift with a written and printed personalised message. Send it anywhere in the UK with next day or selected date delivery for the perfect surprise no matter the occasion.
---
---
7 Best Birthday Gift Ideas For Sister
Unsure what to get your sister for her birthday? From Champagne to Scotch, take a look at these seven gift sets ideal to send across the UK.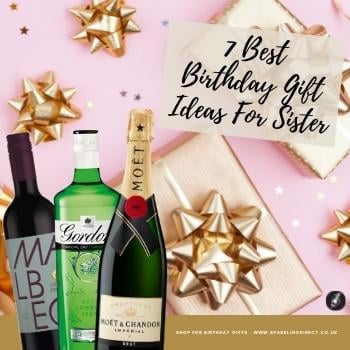 Top 5 60th Birthday Gifts For Her
Gift hunting for a woman can be difficult, especially if you're unsure what to get. Luckily we can help. So what should you get a woman for her 60th birthday?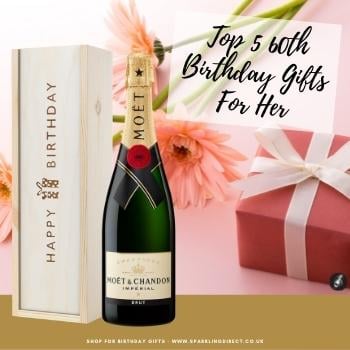 Best 60th Birthday Gifts For Mum
A 60th Birthday is a big occasion, especially if it's your mother's. You want to get her something meaningful to celebrate the milestone and make her feel appreciated.