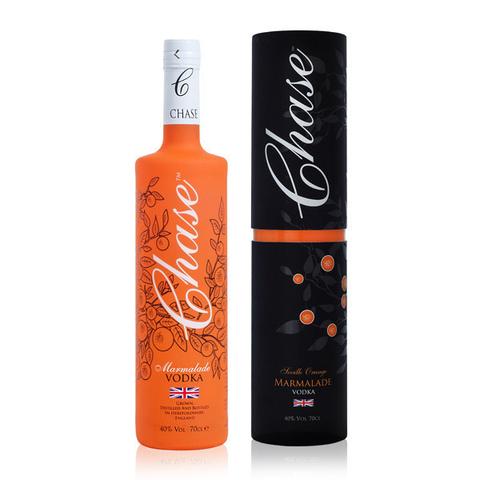 Beginning life as the 'World's Best' Chase Vodka, the smooth and creamy spirit is marinated with a bespoke Seville orange fine marmalade in the Chase alembic copper pot still; Ginny.
The resultant spirit is then further distilled in the world's tallest rectification column (standing at 70ft) with the vapours passing through fresh Valencian and Sevillian orange peel, creating a beautifully bittersweet and 100% natural orange experience.
Chase Marmalade Vodka
Nose
Aromas of orange and lemon marmalades on rye toast.
Palate
Supple, fruity medium-to-full body, tangy.
Finish
Golden hue, orange zest, naturally rich bitter-sweet.
Ideal for sipping neat, over ice, or as the base to a Chase Marmalade Mule.
Chase Marmalade Mule; 1 part Chase Marmalade Vodka, 3 parts Fever-Tree Ginger Beer, dash of Angostura Bitters, fresh lime. Build over lots of ice, add a dash of bitters and garnish with a slice of lime.
View our range of Chase Vodka Gift Sets.