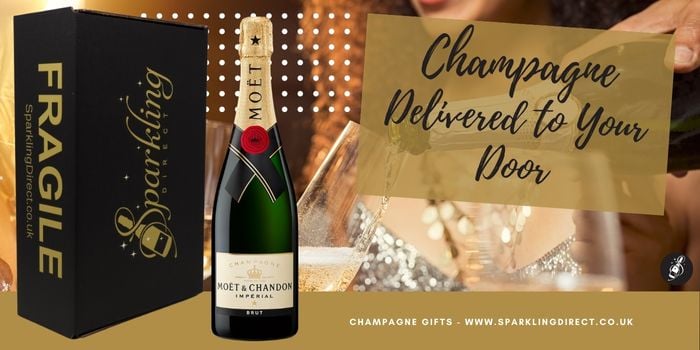 Need a great gift that will make someone smile? Look no further than Sparkling Direct! We provide Champagne gifts to show your special someones that you care. Our selection includes exquisite bottles of the best quality Champagnes, carefully selected and sourced from France's most renowned producers. You can give a single bottle or create an impressive collection with our customizable packages – perfect for anniversaries or special occasions. Our well-known brands ensure quality and satisfaction!
Surprise your loved one with a unique present they won't forget. Imagine their delight when one of our luxurious Champagne Gifts is delivered directly to their door! And as you enjoy it together, every sip will remind them of how much you care about them in this very moment. Let us arrange your next Champagne Delivery and help you make unforgettable memories with Sparkling Direct.
---
Champagne Congratulations Gift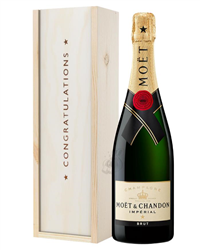 Send your heartfelt congratulations, and do it in absolute style, when you have one of these incredibly sophisticated Moet et Chandon Champagne Congratulations Gift Boxes delivered to someone you care for. A truly delectable blend of chardonnay, pinot noir and pinot meunier that creates a one-of-a-kind flavour anyone can fully appreciate; when you choose to send this wonderful gift box it's obvious upon arrival what it's meant for and what the recipient is meant to celebrate. Presented in a strong, trendy wooden box with the word 'Congratulations' written boldly upon the top of it, this stunning gift set is easy to personalise and allows you to celebrate an accomplishment with someone no matter the distance between you.
---
Veuve Clicquot Champagne Gift Box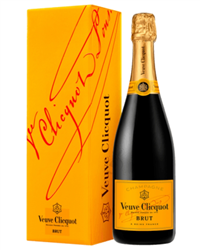 The ideal gift box to choose when sending congratulations is in order, no matter the occasion, or the reason for celebration, one of these truly delicious Veuve Clicquot Champagne Gift Boxes is the perfect present to send. Arriving in a beautifully bright yellow box and containing a single bottle of exquisite champagne within, this gift box is certain to bring a smile to the face of anyone that receives it. Delivered to the address of your choice by any specified date, this remarkable box of champagne will tickle the taste buds of every single person lucky enough to enjoy it.
---
Laurent Perrier Champagne Gift Box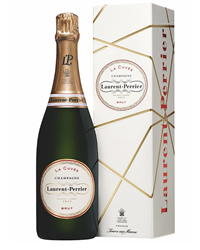 A gift that is easily as gorgeous in appearance as it is delectable in flavour. This simply incredible Laurent Perrier Gift Box is a truly special, and remarkably sophisticated, way to show someone in your life just how much you really care and/or appreciate them. Created from a blend of smooth and crisp flavours and a mixture of high-quality grapes, the bottle of champagne included within this gift box is Laurent Perrier's signature champagne re-launched as la cuvee that is produced every year, allowing you to enjoy, or send, a bottle as often as you like. Personalize this gift with a personal message and anyone it's sent to will be certain to love it.
---
Lanson Champagne Magnum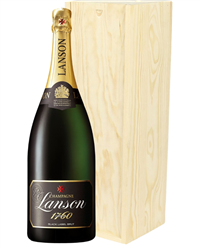 Offering an impressively large volume within a simply chic gift box, this set includes a magnum size bottle of Lanson Black Label Brut NV Champagne within it that features a bold and crisp flavour that any recipient is sure to fully enjoy. A great gift to give for any occasion you can come up with, this Lanson Champagne Magnum 150cl Gift Box makes the perfect present to have delivered to a special event, or even just as a way to say congratulations on a job well done. Simple to customise with a truly personal message if desired as well, this gift box will have anyone that receives it showering you with thanks for sending such a wonderful gift.
---
Bollinger Champagne Gift Box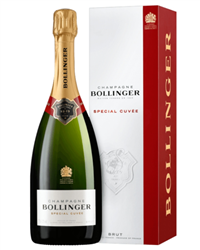 A classy, sophisticated way to truly impress anyone you choose to send it to. From the simple yet eye-catching gift box, it comes in to the incredibly exquisite single bottle of Bollinger Special Cuvee Champagne placed within it, this amazing Bollinger Champagne Gift Box offers everything you're looking for in a bottle of bubbly. Boasting a unique, palate-refreshing taste and fruity, spicy, nut-like flavour; from beginning to end this truly exclusive bottle of champagne will be certain to impress anyone that receives it, from your boss to your best friend and anyone in between.
---
Moet Champagne Gift Box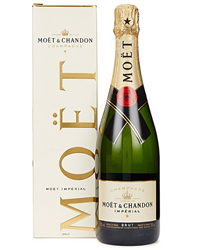 A uniquely delicious way to present a special gift to a special someone; every single sip of the Moet Chandon Imperial Champagne contained within this Moet Champagne Gift Box will be absolutely certain to offer complete satisfaction to anyone, and everyone, enjoying it. Supplied in its own Moet carded box and presented with a personalised gift card filled out by the sender, this truly incredible gift box makes the perfect gift for any occasion from a wedding to a simple congratulations for a job well done at work. Sending something special to someone you care for has never been easier than this.
---
Personalised Champagne Gift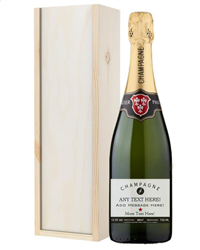 Are you looking for the perfect gift for a special occasion? Look no further! Our Personalised Champagne Gift is sure to impress and delight your recipient. This gift includes a luxurious 75cl bottle of Paul Langier Champagne, presented in a stylish wooden gift box. The bottle can be customised with your own words, making this gift truly unique and special. Imagine the look on your recipient's face when they open this thoughtful and sophisticated gift. Whether you're celebrating a birthday, anniversary, or just want to show your appreciation, our Personalised Champagne Gift is a perfect choice. Don't wait to give this amazing gift! Our convenient next-day delivery or date of your choice option means you can have it delivered straight to your recipient's door, no matter where they are. Order now and make someone's day extra special with our Personalised Champagne Gift.
---
Champagne Thank You Gift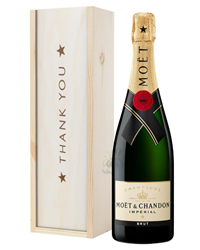 A remarkably chic way to send anyone a very special thank you, even from a distance; this Moet & Chandon Champagne Thank You Gift Box is absolutely certain to bring true satisfaction to anyone that is fortunate enough to receive it. Presented in a smooth, wooden gift box and featuring the words 'Thank You' included upon the top, this gift box can also include a personalised message along with it if desired, making it clear who this stylish box came from. A delectable, harmonious blend of Chardonnay, Pinot Noir and Pinot Meunier grapes and amazingly delicious throughout every glass enjoyed, this high-quality gift box makes a perfect present to deliver to anyone you're really thankful for.
---
Moet & Chandon Champagne and Chocolate Gift Box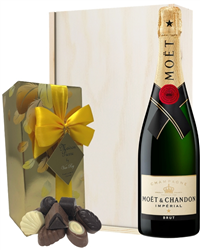 A tasty gift box that is sure to satisfy any recipient lucky enough to receive it; this Moet & Chandon Champagne & Belgian Chocolates Gift Box boasts an array of delicious flavours that no one could pass up. Complete with a single 75cl bottle of Moet & Chandon Imperial Champagne as well as a box of 250g of delectable Belgian chocolate, this gift box features a truly classy and elegant look and an incredible taste that no other combination of flavours can hope to match. Presented in a truly lovely box and securely packed for delivery to any recipient desired, this gift box can also include a personalised message along with it that comes printed on a plastic card and enclosed with the gift.
---
Taittinger Champagne Magnum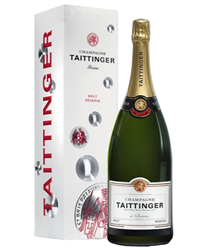 Increase the size of celebrations with this monstrous magnum of Taittinger Champagne. Perfect for sharing at events or for celebrating at home, 1.5 litres is more than enough to extend the festivities and get everyone talking. Or send it to someone to enjoy at home on smaller occasions. Whether for a birthday, anniversary or leaving party, this bottle will be the perfect centrepiece to bring people together for whatever reason. Delivered in its own Tattinger Champagne gift box, this gift can be perfected with a personal message and sent anywhere in the UK.
---
Can You Gift Someone Champagne?
7 Best Champagne Birthday Gifts Delivered To Your Door. Take a look at our top seven gifts to send here in this exceptional gift guide.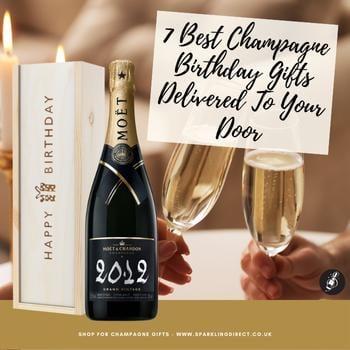 Can I Get a Bottle of Champagne Delivered?
Thinking of getting a bottle of Champagne delivered? Find out how we've made it easier than ever to send a bottle of Champagne here in this post.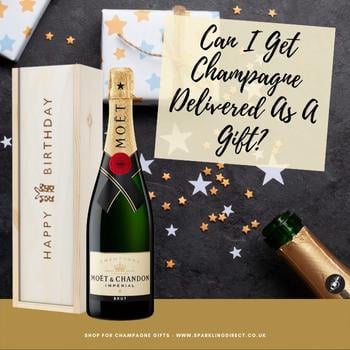 Can You Send Champagne by Post?
Sending Champagne by post is what we do and is what Sparkling Direct have been doing throughout the UK since 2002.