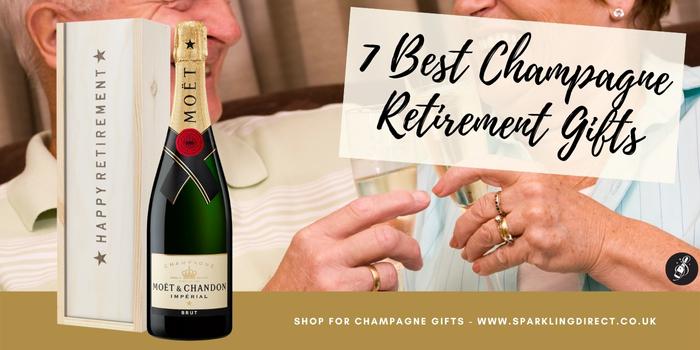 When it comes to retirement gifts, it's not always easy to find the right choice. So what is an appropriate gift for retirement?
Champagne is a fantastic gift choice for anyone retiring. Whether as a gift set or a single bottle, these seven gifts are ideal for sending across the UK. So even if you can't be there to celebrate, you can still help someone enter retirement in style! So why not take a look below at our featured gifts?
---
Champagne Retirement Gift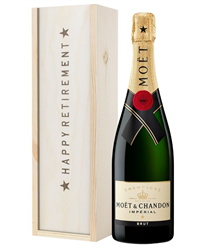 The ideal gift for celebrating such a momentous occasion; this elegant and classy gift set includes a single bottle of Moet & Chandon Imperial Brut Champagne and provides a one-of-a-kind way to share a drink to a long and truly illustrious career. Presented in a solid wooden gift box that comes lined with wood wool and branded with the words 'Happy Retirement' clearly on top, this gift set will make any recipient feel appreciated, accomplished and proud in a way that no other present option ever could. Simple to personalise with a message from you as well if desired, this Champagne Retirement Gift Box makes a statement at any retirement party or celebration it's sent to.
---
Bollinger Rose Champagne & Chocolates Gift Box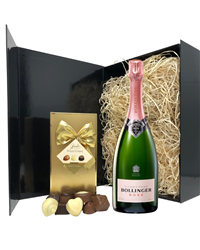 A stylish, perfectly packed gift box that contains a variety of tasty flavours throughout; this Bollinger Rose Champagne & Belgian Chocolates Gift Box boasts everything you're looking for in a delicious, elegant present that is sure to be unlike any other gift they've ever received. Easy to customise with a heartfelt and personal message from you as well if desired, when this remarkably fashionable gift set is delivered the recipient is certain to be thrilled with what they've received from top to bottom. Complete with a 75cl single bottle of Bollinger Rose Champagne and 250g of Belgian chocolate truffles, this delicious gift set comes in the perfect presentation box as well.
---
Champagne Sorry You Are Leaving Gift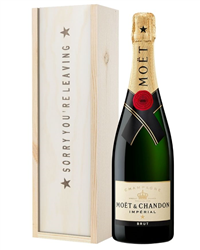 A charming and elegant gift set that features the words Sorry You're Leaving printed perfectly on top; every bit of this Champagne Sorry You Are Leaving Gift Box is designed to make certain anyone it's sent to feels truly appreciated from the very moment it arrives. Easy to personalise with a message from you and a great gift for anyone from a friend to a member of your staff. This gift set will fill any recipient with warmth no matter the reason they're leaving. Presented in a solid wooden gift box lined with wood wool, this gift box can be securely delivered to any location needed, no matter how distant you, or they, maybe.
---
Lanson Black Flute Set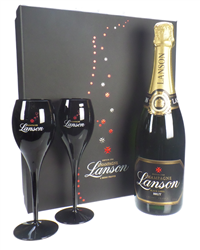 Whatever the celebration, this is a stunning gift to send to someone with an occasion. This set includes an exquisite single bottle of Lanson Black Label to enjoy down to the last drop. Plus, to remember the occasion by, two stylish black glass Lanson Champagne flutes to keep. This is the perfect, complete Champagne set for anyone celebrating. Complete the gift with a personalised message to emphasise your good wishes or a balloon for birthdays. Have it delivered the next day or on a day of your choice anywhere in the UK.
---
Pink Champagne Retirement Gift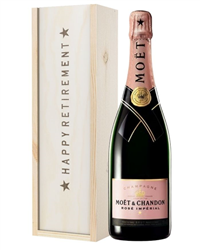 Delivered in a sturdy wooden gift box with the words 'Happy Retirement' printed beautifully on top, this Pink Champagne Retirement Gift Box offers a fashionable way to allow anyone to celebrate such an amazing accomplishment. Complete with a single bottle of Moet & Chandon Rose Imperial Champagne and boasting nothing but smooth and delightful flavours from start to finish, this unique and gorgeous gift set features extraordinary taste that no other gift box on the market can hope to offer. Easy to customise with a personal message from you as well, feel confident sending this gift set to your best friend, spouse or even a boss you've especially loved working for.
---
Veuve Clicquot Vintage Champagne Luxury Gift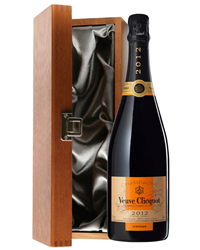 A chic and luxurious gift set that offers nothing but true elegance and sophistication from top to bottom. Containing a single bottle of Veuve Clicquot Vintage Champagne within it, this Veuve Clicquot Vintage Luxury Gift Box boasts a stunning appearance, and a full, delicious flavour that other gift boxes simply cannot match. Presented in a lovely wooden gift box that is lined with gorgeous grey silk, this gift box is meant to securely withstand delivery and makes a wonderful present to have delivered for any occasion from a retirement party to the celebration of a new life at an especially chic baby shower.
---
Laurent Perrier Champagne & Chocolates Gift Box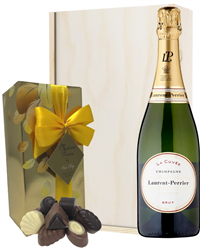 A unique and tasty gift set that boasts just as much elegance and sophistication as it does crisp and delightful flavours; from the moment this remarkably chic gift box is opened the recipient is absolutely certain to feel as loved and appreciated as they could ever possibly be. Complete with a single 75cl bottle of Laurent Perrier Champagne as well as a 250g box of luxurious Belgian chocolates, this sleek and fashionable gift box is made to make an impression, no matter how classy the event that it's sent to. Great to personalise with a message from you for delivery along with it, whether you're having this box delivered to your best mate, a member of your family or a co-worker you're especially close with, this Laurent Perrier Champagne & Belgian Chocolates Gift Box is made to please anyone and everyone that receives it.
---
---
10 Best Single Bottle Champagne Gifts
We've rounded up our best single bottle Champagne gifts to create the ultimate gift guide. Take a look at our collection here.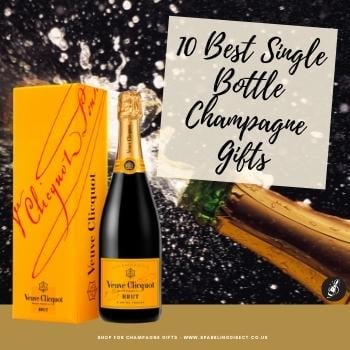 Top 10 Luxury Champagne Hampers
When it comes to Champagne gifts, the more luxurious the better. So you might be considering gifting a Champagne hamper. But what do you put in a luxury hamper?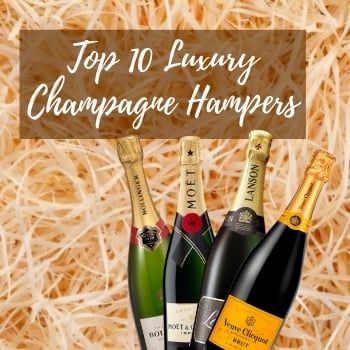 Can I Get Champagne Delivered As A Gift?
Thinking of getting a bottle of Champagne delivered? Find out how we've made it easier than ever to send a bottle of Champagne here in this post.