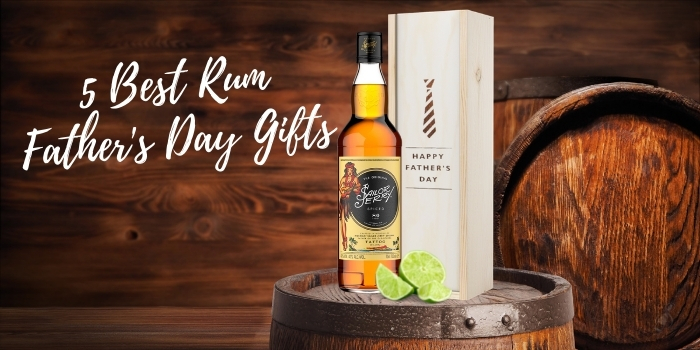 Father's Day is coming up but you don't know what to get. Whilst you want to get him what he wants, you also what to get something special. So what is a good Father's Day Gift?
Rum is a great gift if your Dad, Grandad or Father-In-Law loves it. From Spiced to Dark, we've got 5 Rum gifts, perfect for any Dad in your life. All orders include a gift and card with a personal message, making them personalised and sentimental. Whether from a son or daughter, why not get him one of these?
---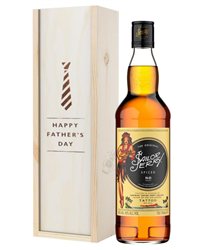 Sailor Jerry Rum Fathers Day Gift
Make any Dad in your life feel like a sailor with this deliciously smooth Rum Father's Day gift. Available for next day or selected date delivery, this exquisite gift includes a single bottle of Sailor Jerry Spiced Caribbean Rum. Let him feel like he's laying on a tropical beach as he drifts away with a glass in his hand. Packaged and presented in one of our wooden gift boxes, 'Happy Father's Day' is printed on the lid to remind him how amazing his children are. Plus, add your own personal message to be included, so even if you can't be there, he knows how much you love him. Delivery is available anywhere in the UK.
---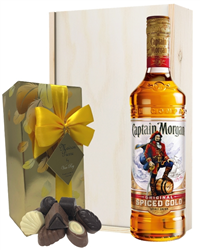 Captain Morgan Spiced Rum and Chocolates Gift Set
Created from a secret recipe of spices, natural flavours and fine Caribbean rum from start to finish; the single bottle of Captain Morgan Spiced Rum included with this incredible gift box is aged in charred white oak barrels and features a flavour that no other type of rum can offer. Delivered in a solid wooden gift box and the perfect gift for any occasion any time of the year, this Captain Morgan Spiced Rum and Chocolates Gift Set also includes a 250g box of Belgian chocolate truffles that provide the ideal flavour profile that any recipient is absolutely certain to enjoy every bit of. Personalise this box with a message from you and surprise anyone from your best friend to your boss, no matter the reason.
---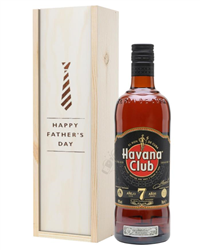 Havana Club 7 Year Old Rum Fathers Day Gift
A sleek and fashionable Father's Day gift that comes presented in a solid and durable wooden gift box lined with wood wool to ensure secure delivery; this Havana Club 7-Year-Old Rum Father's Day Gift is a one-of-a-kind addition to the day of any dad, father-in-law or even the father of your own children if preferred. Easy to personalise with a message from you and delivered in a gift box branded with the words 'Happy Father's Day' on top, this remarkably well-crafted gift set is absolutely certain to bring a smile to the face of anyone fortunate enough to receive it this year.
---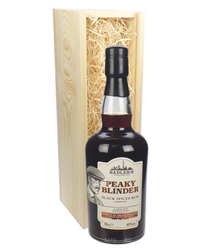 Peaky Blinder Spiced Rum Gift
You don't need to be Thomas Shelby to send this extraordinary Rum to someone or get your hands on it yourself. Peaky Blinders Black Spiced Rum is produced by Sadlers in the Black Country and is infused with selected spices and flavours such as orange, nutmeg, vanilla and raisin. Delivered in one of our wooden gift boxes, this is perfect for any Rum Lover or Peaky Blinder fan, no matter the occasion! This gift can be delivered the next day or on a day of your choice. And, by order of the Peaky Blinders, you should add a personalised message to this gift. So no need to smuggle it out of Birmingham; we can send it straight to the door!
---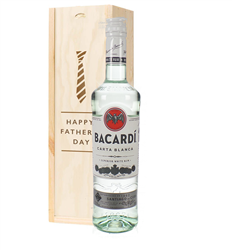 Bacardi Rum Fathers Day Gift
Complete with a single bottle of Bacardi Carta Blanca Rum and designed to assure your gift stands out from every other present they receive this Father's Day; whether you have this gift sent to your father, father-in-law or the father of your children, any recipient is certain to be truly satisfied with this gift from the first sip all the way to the last. Easy to personalise with a heartfelt message from you along with it if desired, this uniquely fabulous Bacardi Rum Father's Day Gift Box comes delivered in a sturdy wooden box and is designed to withstand delivery to nearly any location required, every single Father's Day if desired.
---
---
10 Best Rum Gift Sets
Whether you're looking for something unusual, spiced, or simply the best Rum gift, we've got ten that will please any Rum drinker.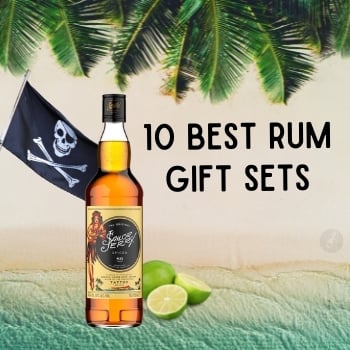 7 Best Spiced Rum Gift Sets
Rum is always a unique and unusual present, regardless of the occasion. When looking for a gift for a rum lover, it's easier to know what to look for.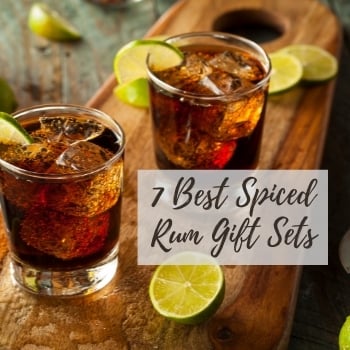 The 5 Best Wine Gifts For Dad This Father's Day Which can be Delivered
Are you searching for wine gifts that can be delivered to your dad for Father's day? Look no further, send your dad, grandad, father-in-law something that will blow his socks off and keep him smiling all day!