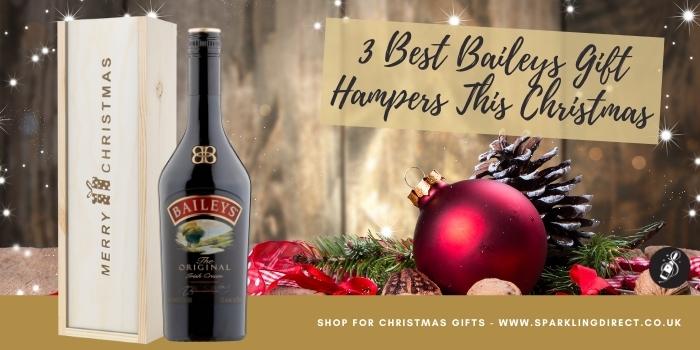 Nothing says Christmas like a bottle of Baileys. When it comes to gifting a bottle, it might be difficult to decide which hamper to give. So what is a good Baileys Christmas gift?
We've narrowed our Baileys gifts down to three top contenders. Whether on its own or with chocolates, any of these three gifts is perfect for any recipient in your life. All include a personalised message and UK delivery, so no matter where they are, you can give them an indulgent present for Christmas!
---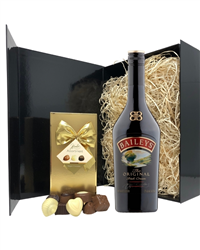 Baileys Gift Set – Baileys and Chocolate Hamper
Give someone the most indulgent gift of them all with this Baileys chocolate gift set. Perfect for any occasion or recipient, send a single bottle of Baileys Irish Cream along with a box of assorted Belgian chocolates. It's beautifully presented in a sleek gift box and is protected with wood wool to ensure safe delivery. You won't find a better gift than this one. Plus, complete this gift with a personalised message and make this a present to remember! Next day or selected date delivery is available anywhere in the UK, no matter the distance. So why not give a Baileys lover the gift they deserve?
---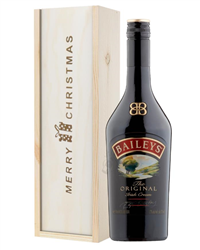 Baileys Christmas Gift Box
It's always a pleasure to give gifts rather than receive them. Bring the spirit of Ireland and treat someone special with a unique Baileys Christmas gift pack. Baileys Original is known for its irresistible flavour and the classic taste of Irish Cream. Best enjoyed in a coffee, hot chocolate and with a pair of best friends. So why not send a bottle? This gift is packaged in one of our wooden gift boxes with 'Merry Christmas' printed on the lid and wood wool lining. Plus, complete this gift with a personalised message and have it delivered anywhere in the UK with next day or selected date delivery.
---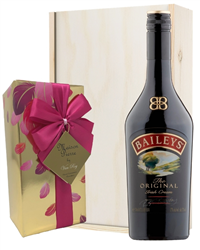 Baileys Original and Chocolates Gift Set
A tasty and delectable combination of flavours unlike any other; from the single bottle of Baileys Original Irish Cream to the 250g of assorted Belgian chocolates included within it, this gift box boasts nothing but absolute flavour all around. Presented in a stylish wooden box and designed to be delivered securely, this one of a kind Baileys Original and Chocolates Gift Set will truly and fully satisfy anyone that receives it. Easy to personalise with a message as well if desired, this gift set makes a perfect present to send to your staff as an incentive for a job well done, or even a congratulatory gift to celebrate a new baby, a new home, or the start of a new life after retirement.
---
---
10 Best Christmas Wine Hampers 2021
There's no gift more delicious than a wine hamper. But when it comes to choosing a wine, it's hard to know which one is best. So what is a good wine to give as a gift?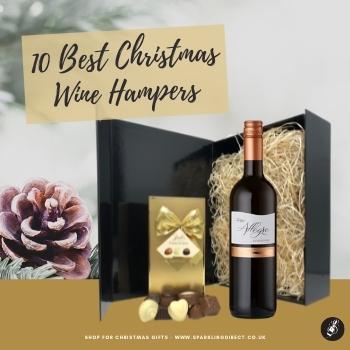 10 Best Christmas Champagne Gift Sets for 2021
Christmas is incomplete without a bottle of Champagne to share with loved ones. When looking for a gift to give, you might be considering a bottle of bubbles. But is Champagne a good Christmas gift?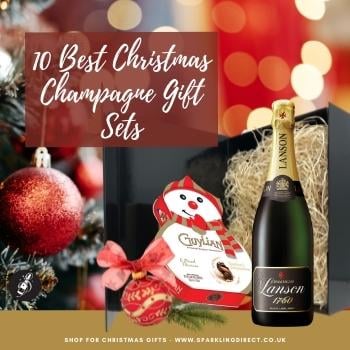 10 Best Gin Christmas Hampers
A single bottle of Gin is enough to brighten anyone's Christmas. That's why we've rounded up 10 of our best Gin hampers to help make Gin gift shopping much easier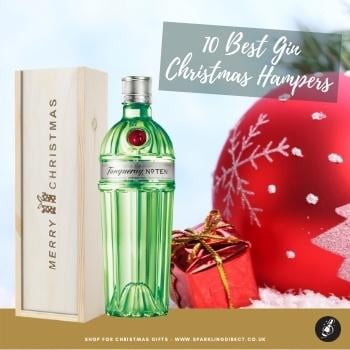 10 Best Christmas Gifts for Whisky Lovers
Whisky makes a fantastic gift when it comes to Christmas. But what is a good Whisky to give as a gift?