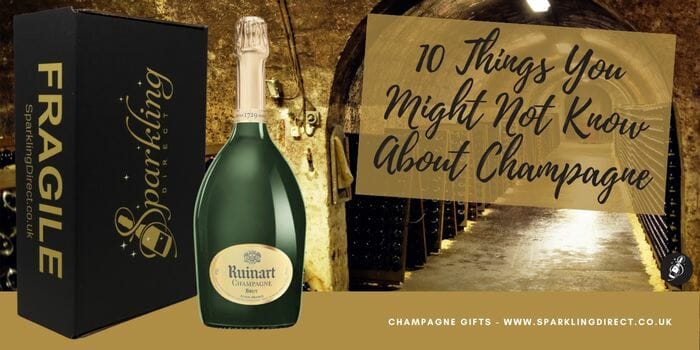 Champagne has long been associated with luxury, celebration, and special occasions. But beyond its glamorous reputation, this sparkling wine has a fascinating history and unique production process that many people are unaware of. In this article, we'll take a deep dive into the world of Champagne and uncover 10 things you probably didn't know about this beloved beverage.
From the Méthode Champenoise to the world's largest Champagne bottle, we'll explore the history, culture, and traditions that make Champagne so special. So pour yourself a glass, settle in, and let's explore the wonderful world of Champagne!
1. Champagne is a Region in France
Champagne is a region located in northeastern France, known for producing some of the world's finest sparkling wines. The region's unique climate and soil conditions create ideal growing conditions for the three main grape varieties used in Champagne production: Chardonnay, Pinot Noir, and Pinot Meunier.
2. Méthode Champenoise
The bubbles in Champagne are created by a second fermentation process that occurs in the bottle, known as the "Méthode Champenoise." This involves adding a mixture of yeast and sugar to the base wine, which triggers a second fermentation and the release of carbon dioxide. The wine is then aged on its lees (dead yeast cells) to develop complex flavours and aromas.
3. Champagne Bottle Pressure
Champagne bottles are under a tremendous amount of pressure, typically around 90 psi, which is three times the pressure of an average car tyre. This is due to the carbon dioxide released during the second fermentation process. The pressure in a Champagne bottle is so high that the cork can fly out with great force, which is why it's important to open Champagne bottles safely and carefully. To avoid a champagne explosion, hold the bottle at a 45-degree angle, grip the cork with your hand, and slowly twist the bottle to ease the cork out.
4. Vintage vs. Non-Vintage Champagne
Champagne can be classified as either vintage or non-vintage. Vintage Champagne is made from grapes grown in a single, exceptional year, while non-vintage Champagne is a blend of wines from multiple years. Vintage Champagne tends to be more expensive and complex, while non-vintage Champagne is a great option for everyday drinking.
5. Champagne Bottle Design
Champagne bottles are instantly recognizable by their distinctive shape, which is known as a "punt." This indentation in the bottom of the bottle was originally intended to make the bottle stronger and less likely to break during transportation. Today, it's purely decorative, and each Champagne house has its own unique bottle design.
6. Champagne Glassware
The shape and size of the glass can have a significant impact on the taste and aroma of Champagne. Tall, narrow glasses with a fluted shape help to preserve the wine's bubbles and showcase its delicate aromas. The shape of the glass also influences the way the wine hits your palate, which can affect how you perceive its flavour. When choosing a Champagne glass, look for thin, clear glass to ensure the wine's colour and clarity are fully appreciated.
7. Oldest Champagne House
The oldest Champagne house still in operation today is Ruinart, which was founded in 1729 by Nicolas Ruinart. Today, Ruinart is owned by LVMH and produces a range of high-quality Champagnes that are known for their elegance and finesse.
8. Medicinal Properties
Champagne has a long history of being used for medicinal purposes. In the 19th century, it was believed to have healing properties and was often prescribed to treat everything from depression to stomach ailments. While we now know that Champagne doesn't have any significant medicinal benefits, it's still a great way to lift your spirits and celebrate special occasions.
9. Midas Bottle
The largest Champagne bottle in the world is the "Midas" bottle, which holds 40 standard bottles of Champagne. This massive bottle was named after the Greek king who was said to have turned everything he touched to gold. The Midas bottle is a popular choice for large celebrations and is often seen at weddings and other special events.
10. Food Pairings
Champagne is a versatile wine that pairs well with a wide variety of foods. Its high acidity and effervescence make it an excellent choice for cutting through rich, fatty foods like fried chicken and potato chips. It also pairs well with seafood, cheese, and desserts like strawberries and cream. When pairing Champagne with food, look for dishes that complement its delicate flavours and aromas.
The Bottom of the Glass
We've reached the bottom of the glass, from its unique production process to its long history and cultural significance, Champagne is a wine that has captured the hearts and palates of people all over the world. Whether you're sipping on a glass of vintage Champagne at a black-tie affair or enjoying a glass of non-vintage Champagne with friends, this sparkling wine is always a cause for celebration. So the next time you pop open a bottle of Champagne, take a moment to appreciate all the hard work and dedication that goes into each and every sip.
| Fact | Description |
| --- | --- |
| Champagne Region | The Champagne region is located in northeastern France and is known for producing the world's finest sparkling wines. |
| Champagne Grapes | Champagne is made from three different grape varieties: Chardonnay, Pinot Noir, and Pinot Meunier. |
| Champagne Production | Champagne is made using the traditional method, which involves a secondary fermentation in the bottle. |
| Vintage vs. Non-Vintage Champagne | Champagne can be classified as either vintage or non-vintage. Vintage Champagne is made from grapes grown in a single, exceptional year, while non-vintage Champagne is a blend of wines from multiple years. |
| Champagne Bottle Design | Champagne bottles are instantly recognizable by their distinctive shape, which is known as a "punt." |
| Champagne Glassware | The shape and size of the glass can have a significant impact on the taste and aroma of Champagne. |
| Oldest Champagne House | The oldest Champagne house still in operation today is Ruinart, which was founded in 1729 by Nicolas Ruinart. |
| Medicinal Properties | In the 19th century, Champagne was believed to have healing properties and was often prescribed to treat everything from depression to stomach ailments. |
| Midas Bottle | The largest Champagne bottle in the world is the "Midas" bottle, which holds 40 standard bottles of Champagne. |
| Food Pairings | Champagne is a versatile wine that pairs well with a wide variety of foods. |