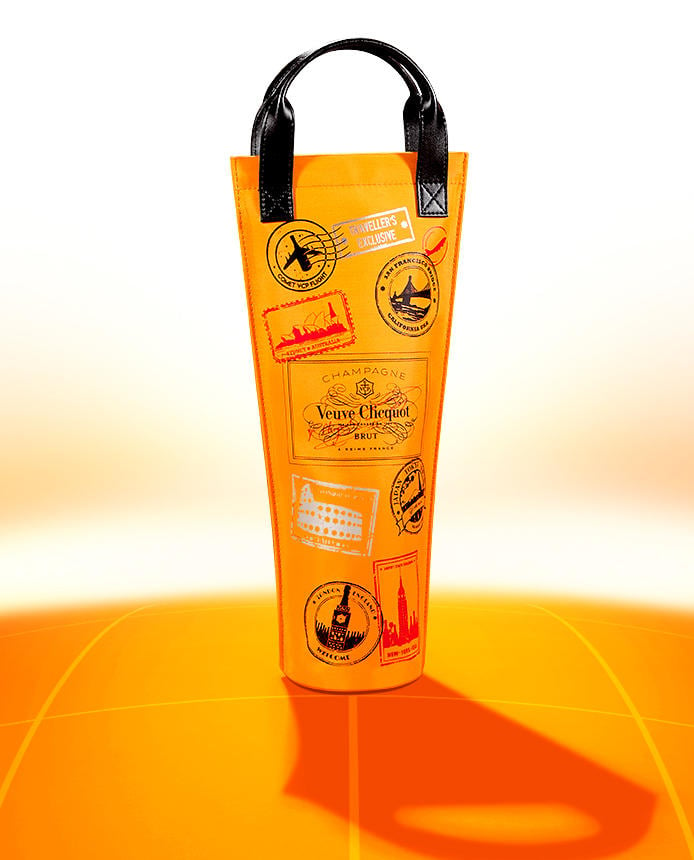 For a perfect tasting, Veuve Clicquot Champagne has to be served at the right temparature.
This could become a challenge for travelers who love sharing moment with friends abroad.
That's why Veuve Clicquot imagined the Shopping Bag – featured with iconic stamps as the ones travelers got when they go abroad- which allows you to keep your bottle of Yellow Label cold for 2 hours.
Veuve Clicquot Yellow Label Brut has been the symbol of the House since 1772. A perfect balance between power and finesse, its complexity comes from the predominant presence of Pinot Noir and Reserve Wines.
Grapes from as many as 50 to 60 different Crus are used for the blending of Yellow Label. The predominance of Pinot Noir provides the core structure of Clicquot, while a touch of Meunier rounds out the blend. Chardonnay adds the elegance and finesse essential to a perfectly balanced wine.
As part of Veuve Clicquot's Journey range, the Clicquot Shopping Bag is the perfect gift for lovers of Veuve Clicquot Champagne.
View our range of Veuve Clicquot Champagne gifts.