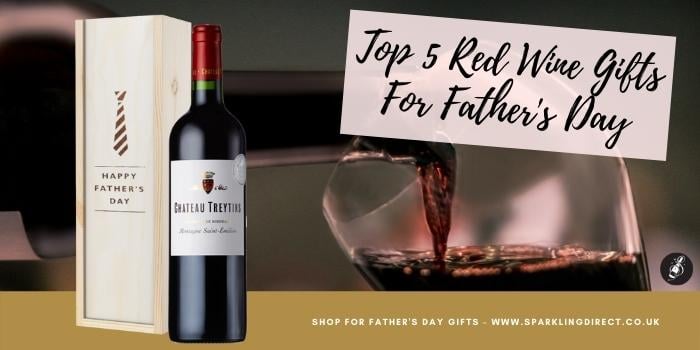 Red wine makes a fantastic gift for Father's Day. So if you're struggling to find the perfect bottle, we have all the answers here. So what is the best red wine for Father's Day?
Chateauneuf Du Pape, Bordeaux Red, Malbec and Shiraz are all perfect choices when it comes to Father's Day red wine gifts. Take a look at our top red wine gifts below for some delicious ideas. Each is presented in a wooden gift box and includes a personalised message for extra effect.
---
Chateauneuf Du Pape Red Wine Fathers Day Gift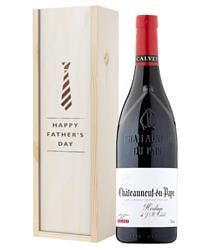 A fabulous Father's Day gift ideal for delivery to any Dad with a true love of the flavours only wine can provide. Presented in a sturdy wooden box and emblazoned with the words 'Happy Father's Day' as well as a necktie symbol on top, when you have one of these remarkably high-quality Chateauneuf Du Pape Red Wine Father's Day Gift Box sent to the most important man in your life, you can rest assured he'll receive the absolute best, just like he deserves. Easy to personalise with a heartfelt message that tells your Father just how much he means to you, this extraordinary gift set includes a single bottle of Chateauneuf Du Pape within it and will instantly become a gift your Dad will look forward to every single year from now on.
---
Red Wine and Cheese Hamper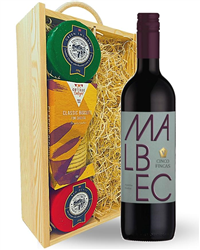 Looking for the ultimate gift for a wine or cheese lover? We've got a perfect choice! Treat someone to this exceptional cheese and wine hamper, containing a single bottle of Malbec wine, a box of Cottage Delight Biscuits, Snowdonia Green Thunder Cheese and Snowdonia Red Devil Cheese. Green Thunder is a Cheddar Cheese with roasted garlic and herbs. Red Devil is a Red Leicester with Habanero chillies and peppers. This Hamper is presented in one of our wooden gift boxes and is protected with wood wool. You can personalise this gift with a written gift message and send it anywhere in the UK with next day or selected date delivery.
---
French Bordeaux Red Wine Fathers Day Gift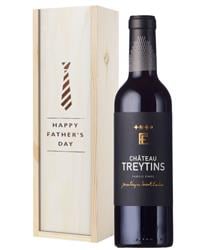 A fantastic Father's Day gift from the inside out; this chic and sophisticated gift set includes a single bottle of red wine from the Bordeaux region of France and comes presented in a solid wooden box that is designed to withstand delivery to nearly any location required. Created from mostly hand-picked Merlot grapes and featuring a strong nose of red fruits and a fresh and delicious taste, from the moment this incredible bottle of wine is uncorked it will be sipped and truly savoured from top to bottom. Just the Father's Day gift your Dad has always wanted, this French Bordeaux Red Wine Father's Day Gift Box will be the present he hopes for every year from now on.
---
Australian Shiraz Wine Hamper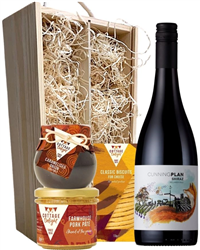 Complete with a single bottle of Australian Shiraz from the Langhorne Creek area of Australia, a 90g jar of Cottage Delight Farmhouse Pate with Pork, a 115g jar of pickles and a 150g package of Oval Alberts Savoury Biscuits; this truly one-of-a-kind gift set provides everything needed to enjoy a remarkably delicious treat unlike any other. Presented in a simple yet chic wooden gift box lined with wood wool to ensure secure delivery to any location, from front to back this Australian Shiraz Wine & Gourmet Food Gift Box boasts unmatchable style and flavour from beginning to end. Just personalize this set with a message from you and feel confident sending it for any occasion from Christmas to Valentine's Day and more.
---
Terrazas Reserva Malbec Red Wine Fathers Day Gift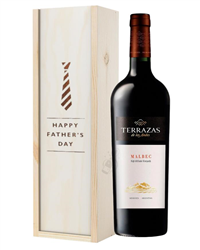 The ideal Father's Day gift for any dad in your life with a true love for the flavours that only red wine can provide. Complete with a bottle of Terrazas de la Andes Malbec Red Wine within it and designed to truly satisfy your dad, father-in-law or any other dad you know; from the moment this elegant gift box arrives, you can be sure they'll be truly appreciative to you from start to finish. Easy to personalise with a message from you and created for secure delivery to any Father's Day celebration. This Terrazas Reserva Malbec Red Wine Father's Day Gift Box is just what any Dad would love to receive and enjoy, this year.
---
---
The 5 Best Gifts of Champagne to Send Dad this Father's Day
This Father's Day, surprise Dad with a gift he can truly celebrate with. Champagne is perfect for dads-to-be and first father's day gifts all the way to grandad.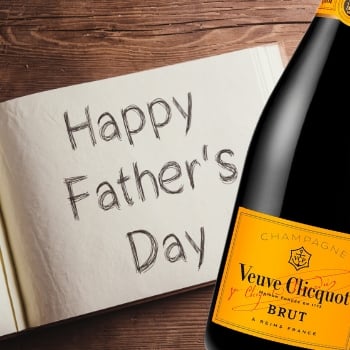 10 Best Father's Day Wine Gifts
Struggling to find the perfect wine gift for Father's Day? We've got ten best-sellers waiting for you to order! Find out what they are in this gift guide.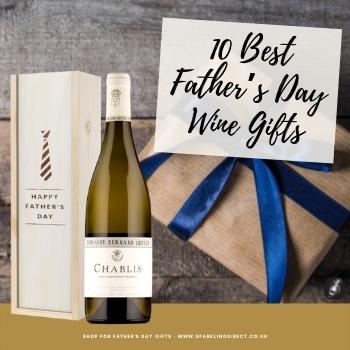 The 5 Best Father's Day Gifts For Dads who Love Gin
Are you searching for the best gin gifts for father's day? We know it can be hard choosing something special if you have a dad who has everything or wants nothing. Don't worry, we have a selection of gifts for dads who love a glass of gin.