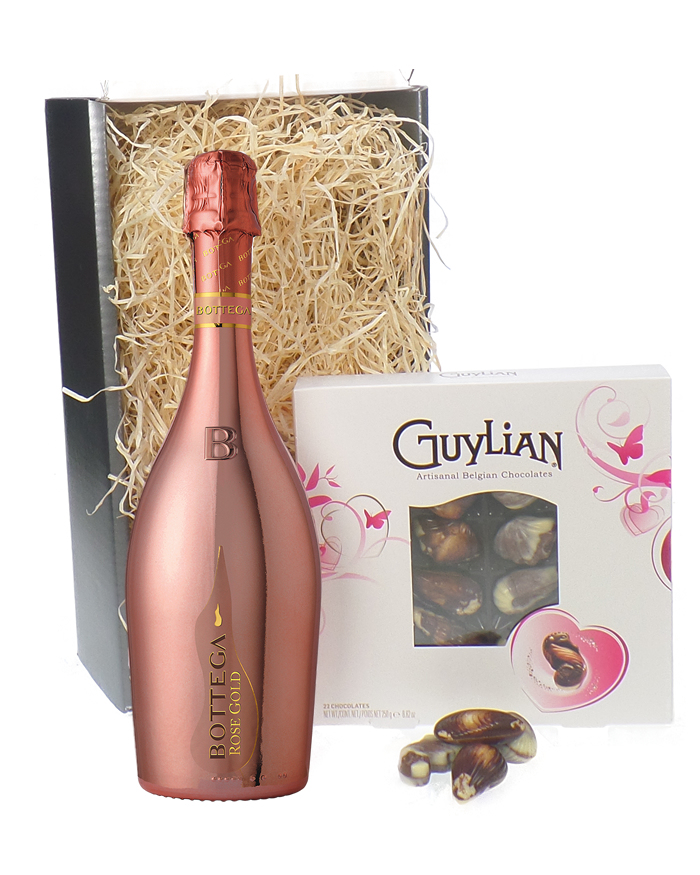 At Sparkling Direct we have been delivering wine gifts and Champagne gifts next day throughout the UK since 2002. The UK has gone Prosecco crazy. This popular Italian sparkling wine is flying off the shelves at stores up and down the country. With a lower price tag than Champagne it's great for sending as a gift without breaking the bank.
The sparkling Bottega pink bottle of prosecco; is made from Pinot Noir grapes grown throughout the Veneto region. Presented in a decorative rose gold bottle, this fantastic sparkling wine is full of flavours of fresh red fruit character, with some notes of strawberry, cream and vanilla.
Prosecco is also an all year round drink, perfect for weddings and special occasions like Christmas or Birthdays. Our team of gift lovers are always creating new combinations of gift baskets and boxes, combining prosecco with chocolates and flowers to cater for a range of budgets.
We are in the process of increasing our range of pink Prosecco gifts to include larger bottle sizes; Magnums and Jeroboams. We will also be adding pink Prosecco and flowers as well as pink Prosecco and Belgian Chocolates. These new products will be available to order from October and will be perfect for anyone already thinking about Christmas.
Ordering prosecco online or by telephone with us is simple, should take less than 5 minutes. Place the order before 4pm and we can deliver next day throughout the UK. The only exceptions are a few remote places in the Scottish highlands and Northern Ireland.
View our range of Prosecco Gifts.