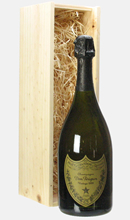 Ok if you're searching for Don Perrier Champagne or how much is don perion champagne? Then most search engines are actually going to show you results for Dom Perignon Champagne.
As far as we know Don Perrier Champagne does not exist. Don Perion could just be a misspelling of Dom Perignon.
At Sparkling Direct one of our bestselling gifts is the Dom Perignon vintage Champagne supplied in a wooden gift box.
For those wanting to know about the history, here is a little more information for you, Dom Perignon was the 17th century Benedictine
monk who has gone down in history as the person who "invented" Champagne. His name was originally registered by Eugène Mercier.
He sold the brand name to Moët & Chandon, which used it as the name for its prestige cuvée, which was first released in 1937.
We currently stock the following Dom Perignon Champagne Gifts
• Dom Perignon Champange Gift
• Dom Perignon Champagne and Chocolates
• Dom Perignon Vintage Champagne and Teddy Bear
• Dom Perignon Champange in Luxury Wooden Gift Box
• Dom Perignon Vintage Champagne and Chocolate Truffles
• Dom Perignon Rose Champange Gift
Although this is just a short post, I must admit I have confused myself and typed the wrong spelling several times myself.