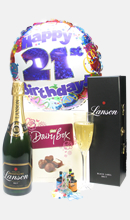 What do you get someone who is turning 21. A 21st birthday gift has to be special as it is one of the cherished most celebrated ages. Ok, so every birthday is special but historically a 21st birthday has been viewed as the key to the door, being 21 defines you as an adult for the first time.
Since the 70's this has been slightly eroded due to the fact that 18 is now seen as the start of adulthood, however, none of this detracts from sending very nice 21st birthday gifts.
It is hard to believe that as of writing this anyone born in 1992 will be turning 21 this year. That includes such people as Miley Cyrus and icarly stars Lennette McCurdy and Nathan Kress, as I can hardly remember the days of my 21st I will quickly move on.
It is important to get a 21st birthday gift that can be used and enjoyed but yet also kept as a keepsake if wanted. With this in mind the 21st birthday gifts we have put together are a mixture of just that.
Many people tend to spend a little more than they otherwise would when it comes to selecting 21st birthday gifts, however, we have tried to offer a broad selection covering differing budgets.
Our 21st birthday gifts start from £25 and range up to £55 – remember that these prices include the gift itself and the UK delivery delivered on the special day itself or any other nominated day.
21st Birthday Gifts under £30
We offer a couple of 21st birthday gifts that fall into this category. The first being a bottle of wine, a French Syrah for red wine fans or a bottle of Pinot Grigio for fans of white wine together with a 21st birthday bottle stopper. This is great as it can be kept and reused over and over once the original wine has been used to celebrate on the day.
Our other 21st birthday gifts under £30 are a bottle of Cabernet Sauvignon or Sauvignon Blanc together with a lovely box of chocolates and an inflated Happy 21st birthday balloon. This is a gift that is designed to indulge, there is nothing to be kept here, this 21st birthday gift is for today!
21st Birthday Gifts Under £50
For those people wishing to spend a little bit more than normal we have some lovely 21st birthday gifts to choose from. A 21st birthday is most definitely a Champagne moment and so these gifts include a full size bottle of Champagne. We offer a choice here of either our house brand Champagne or a more high street known brand such as Lanson or Moet and Chandon.
Like the lower price bracket we offer a 21st birthday Champagne, chocolates and 21st birthday balloon gift, once again designed to be consumed, although many people do keep their Champagne as a reminder of their special day.
Our other 21st birthday gift is a bottle of Champagne, a 21st birthday flute glass and a 21st birthday balloon. This is a special gift and is usually cherished.
All in all 21st birthdays are very special occasions and must be celebrated with friends and family, so even if you cant get to the party be sure to send them one of our great 21st birthday gifts.