Smirnoff Vodka Gift Sets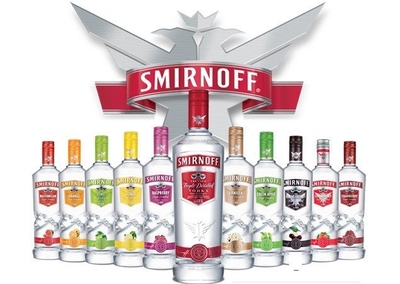 Sparkling Direct are UK suppliers of Smirnoff Vodka. Providing a next day delivery service for all vodka gifts ordered before 4pm Monday to Firday. Saturday and Sunday deliveries can also be arranged.
Select from a Single Bottle of Smirnoff Vodka for delivery or choose from our gift sets with chocolates etc..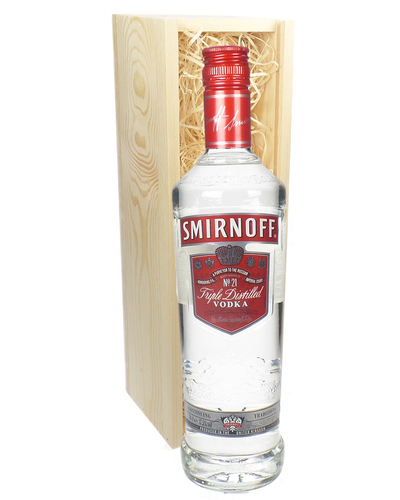 Smirnoff No. 21 (red label) is the world's No. 1 vodka. Its classic taste has inspired other varieties throughout all four corners of the globe.
Smirnoff Red Label, 37.5% or 40% ABV (location dependent).
The Smirnoff brand began with a vodka distillery founded in Moscow by Pyotr Arsenievich Smirnov (1831–1898). It is now distributed in 130 countries.
Smirnoff produce a range of flavoured vodkas the current flavours include; Fluffed Marshmallow, Cake, Kissed Caramel, Whipped Cream, Root Beer Float, Green Apple, Orange, Cranberry, Raspberry, Citrus (Lemon), Vanilla, Strawberry, Black Cherry, Watermelon, Lime, Blueberry, White Grape, Melon (Honeydew/Cantaloupe), Pomegranate, Passion Fruit, Pear, Peach, Pineapple, Mango, Coconut, and Amaretto.
At Sparkling Direct we can personalise your Smirnoff Vodka gift with a message. Its simple to create your personal message online during the checkout process and it will be printed onto a gift card then inserted with your gift box.
Click here for further details or to buy one of our Smirnoff Vodka Gift Sets