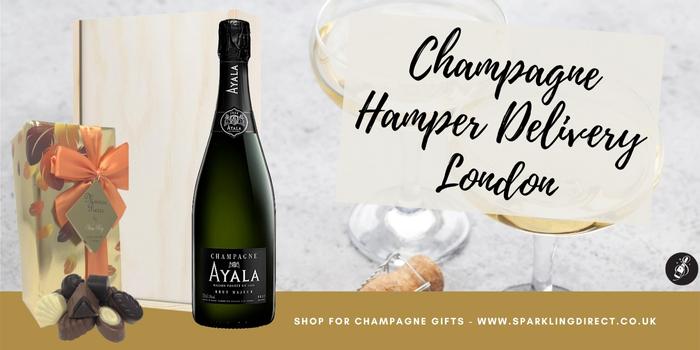 No matter the occasion, Champagne makes a great gift for any occasion. But when you can't be there to give a bottle in person, it's not always easy to send a bottle. So where can you send Champagne Hampers by post?
We've made it easy to send a Champagne gift to any location in the UK, especially London. Whether you've got family, friends or colleagues living in the city, we can have a bottle of Champagne delivered straight to their door. So even if you live miles away, you can always send the perfect Champagne hamper.
---
Veuve Clicquot Champagne & Chocolates Gift Box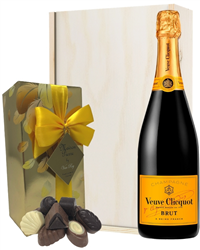 As delicious in flavour, as it is elegant in design and composition, this sleek and truly gorgeous Veuve Clicquot Champagne & Chocolates Gift Box offers absolute sophistication and impressive quality throughout every item included within the set. Carefully packed within a stylish wooden gift box and complete with everything needed for absolute enjoyment of each item within it; from the single bottle of Veuve Clicquot Champagne to the assorted Belgian Chocolates, there isn't a taste of this box that isn't absolutely delightful from start to finish. A present anyone will be sure to appreciate, this gift box comes with a printed plastic gift card with a personalised message enclosed with the gift itself.
---
Moet & Chandon Rose Champagne Hamper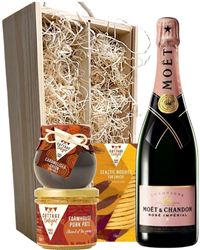 Gift someone the most beautiful and sophisticated Champagne gift with this delicious hamper. Perfect for any occasion, send someone a single bottle of Moet & Chandon Rose Champagne along with a delightful selection of gourmet foods. These include Cottage Delight Farmhouse Pate with Pork (90g), a jar of fabulous Pickle (115g) and some Oval Alberts Savoury Biscuits (150g), making it the perfect Champagne hamper. It's all packaged and presented in one of our wooden gift boxes with wood wool and includes a personalised message. You can send this hamper anywhere in the UK with next day or selected date delivery. So there's no reason not to make someone's occasion extra special with this delightful hamper.
---
Ayala Champagne & Chocolates Gift Box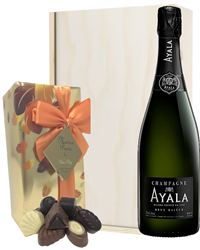 Whether to say 'congratulations', 'happy birthday' or 'sorry you're leaving', this unique and stylish gift set is perfect whatever the occasion. Beautifully paired, this gift set includes a single bottle of bubbly Ayala Brut Champagne and a box of delicious assorted Belgian chocolate truffles. It's the ideal gift for any lucky recipient. Carefully presented and delivered in one of our wooden gift boxes, this hamper can be sent anywhere in the UK and arrive the next day or on a selected date. You can also add a unique and personalised message that can be written upon checkout and included with the gift.
---
Lanson Champagne Hamper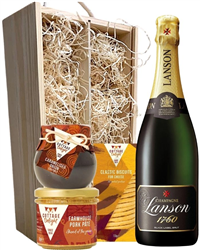 Forget the generic chocolates and treat someone to this sophisticated and indulgent gift set. Including a single bottle of Lanson Champagne, this gift offers a unique collection of gourmet food including Cottage Delight Farmhouse Pate with Pork, a jar of fabulous Pickle and Oval Alberts Savoury Biscuits. Whether for a birthday, milestone celebration or anniversary, this set is sure to stand out from the rest and surprise whoever receives it. Delivered in a wooden box, you can personalise this gift with a personalised message and have it delivered on a day of your choice.
---
Laurent Perrier Champagne & Chocolates Gift Box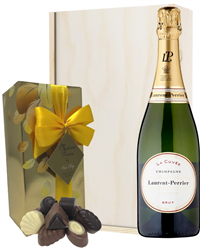 A unique and tasty gift set that boasts just as much elegance and sophistication as it does crisp and delightful flavours; from the moment this remarkably chic gift box is opened the recipient is absolutely certain to feel as loved and appreciated as they could ever possibly be. Complete with a single 75cl bottle of Laurent Perrier Champagne as well as a 250g box of luxurious Belgian chocolates, this sleek and fashionable gift box is made to make an impression, no matter how classy the event that it's sent to. Great to personalise with a message from you for delivery along with it, whether you're having this box delivered to your best mate, a member of your family or a co-worker you're especially close with, this Laurent Perrier Champagne & Belgian Chocolates Gift Box is made to please anyone and everyone that receives it.
---
Next Day Champagne Hamper Delivery UK | 10 Best Corporate Champagne Hampers
---
Who Delivers Champagne Hampers?
Did you know Sparkling Direct can deliver gift hampers? Check out our top best-selling Champagne hampers and how to send one in this post.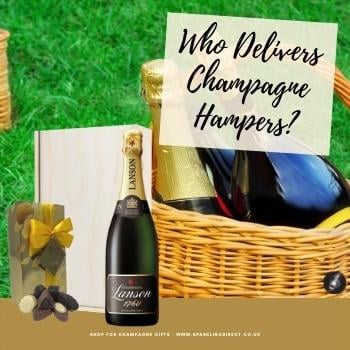 Where Can I Buy Hampers With Champagne?
If you're looking to send a Champagne hamper, we're the place to go. Find out why and which hampers are best to send here in this post.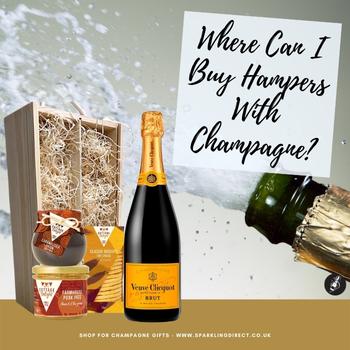 How To Send A Champagne Hamper UK
Wondering whether there's an easier way to send a Champagne hamper? We've got everything you need to know here in this post.