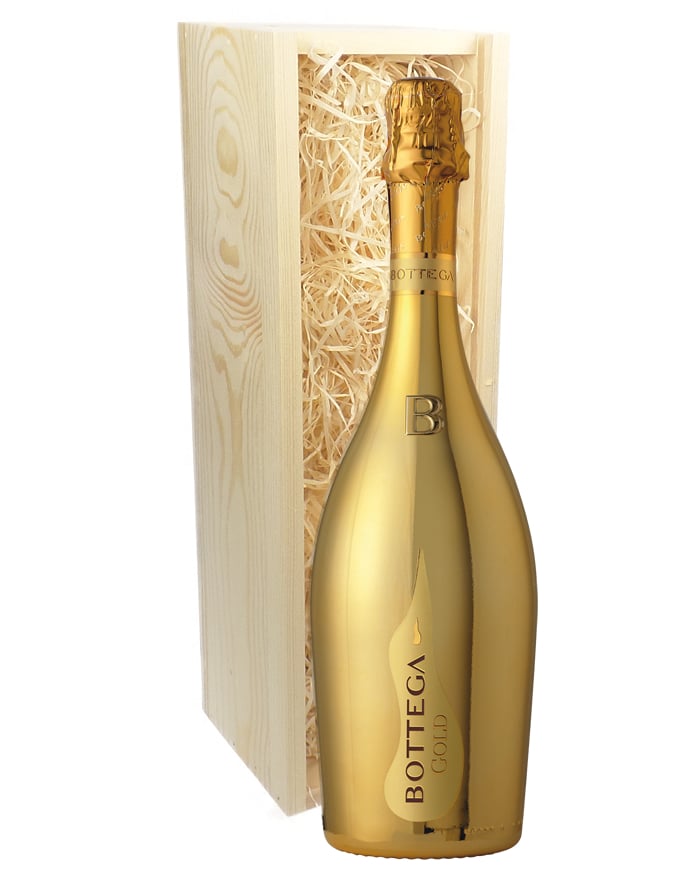 Bottega Gold is a Prosecco Doc Brut sparkling wine, obtained by the vinification in white of the Glera grapes, grown in the Valdobbiadene hills. This area is close to the Venetian Prealps and characterized by a climate perfect for this native variety of grape.
The vineyards are located on a hilly territory that not only has a landscape of great value but also a long wine-growing tradition. These grapes are hand picked and softly pressed in the winery.
The must obtained is maintained in stainless steel containers at low temperature to keep its freshness. It follows the fermentation in autoclave for nearly 40 days, at a controlled temperature of 14-15° C, with the addition of selected yeasts (Charmat method).
The golden bottle protects the wine by any source of light, preserving its aroma and freshness thus giving the wine a longer life.
Colour and appearance: Brilliant, with a rich and persistent foam and fine perlage. Pale straw yellow
Bouquet: Clear, characteristic, fruity and flowery with scents of Golden apple, Williams pear, acacia flowers and lily of the valley
Taste: Quite tasty, harmonious, elegant and fresh
Suggested glass: Flute
Serving temperature: 4/5°C – 40°F
Vine: Glera
Origin: Valdobbiadene (Veneto)
Sugar: 11-12 g/l Brut
Alcohol content: 11% vol.